In Red Sea, this is how Milind Soman is 'waiting for the dolphins'
Jul 25, 2022 03:13 PM IST
Milind is chilling on the sea bed of Red Sea, waiting for the dolphins to come out and play – this is ultimate travel goal we need to get through Monday blues.
Milind Soman and Ankita Konwar are having a dreamy vacation in Egypt. The couple recently took off for their vacay to Egypt and since then, their Instagram profiles are replete with pictures and videos featuring their ventures in the country. Milind and Ankita are doing it all. From climbing mountains, visiting monasteries to going for a dive in the ocean. The couple are also keeping themselves up to date with their fitness regime. Milind, who is a model, TV personality, actor and fitness enthusiast, was spotted running on the beach in Alexandria. Milind's wife Ankita, who is a certified yoga trainer chose to take up her yoga routine in the middle of a temple complex in Egypt. Their Instagram profiles are proof of their activities in Egypt.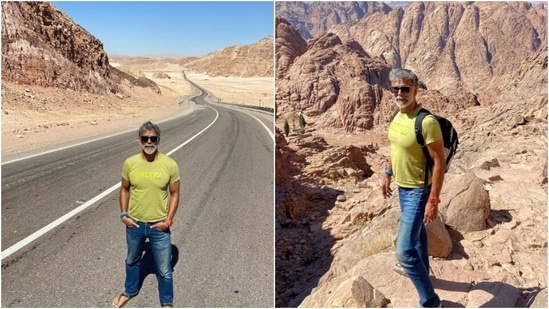 ALSO READ: 'At the top of Mt Sinai' in Egypt, Milind Soman shares his first commandment
Milind and Ankita spent a considerable time of their vacation by the Red Sea in Egypt. Be it cruising in Red Sea and having a romantic conversation with the lapping water and a stunning sunset in the backdrop or going for adventure sports such as Scuba diving – their Red Sea ventures are as dreamy as possible. Milind, on Monday, drove our blues away with a short video of himself resting on the sea bed. The underwater video captured the perfect chill mood of the actor as he can be seen lying on his side in his scuba diving gear and showing a victory sign to the camera. Apparently, Milind was waiting for the dolphins by the sea bed to come out and play – he revealed in the caption. Take a look at his video here:
A few days back, Milind shared a slow-motion video of himself running by the sea beach in Alexandria. "Very very short run in Alexandria, just to stretch the legs!" He further summed up his Egypt vacation till now in these words - "Egypt is beautiful, the people are amazing and I can't imagine what it would be like if the ancient Pharaonic culture was alive today. Mind boggling," read his caption.
Milind and Ankita's vacay snippets are giving us major travel FOMO, all the while setting travel goals for us to follow.