Lok Sabha elections 2019: As electoral race gathers pace, political parties take fight to the skies
Updated on Mar 24, 2019 07:58 AM IST
As the Lok Sabha electoral race gathers pace, demand for chartered planes and helicopters to fly around candidates and their political paraphernalia is rising rapidly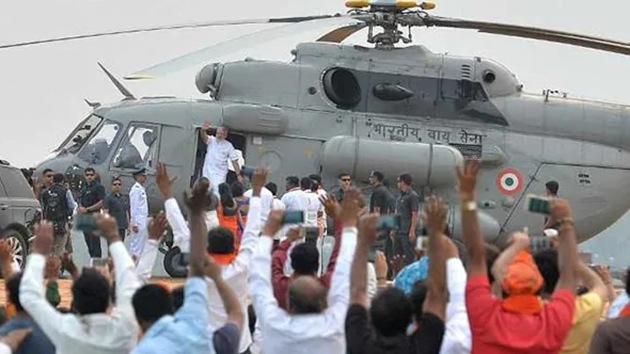 Hindustan Times, New Delhi |
Faizan Haidar and Smriti Kak Ramachandran
As the Lok Sabha electoral race gathers pace, demand for chartered planes and helicopters to fly around candidates and their political paraphernalia is rising rapidly. Most available aircraft have already been booked, air service operators said, and given that the April 11-May 18 elections are spread over as many as seven phases, candidates need to scramble for the rest.
Political parties depend heavily on helicopters and private aircraft during election campaigns, specially when they have to travel to far-flung areas or constituencies with poor road connectivity, such as the those in the north-eastern states.
"Obviously there will be a gap between demand and supply during elections but the party that pays well and on time will get the choppers. I have been supplying both fixed-wing aircraft and twin-engine choppers to the Bharatiya Janata Party (BJP) and have never faced an issue," said Gulab Singh, owner of Saarthi Airways.
According to Singh, the per-hour cost of hiring a chopper is roughly around ₹2-2.5 lakh. The per-hour cost of hiring a nine-seater fixed-wing aircraft is around ₹90,000 per hour.
India has around 20 twin-engine helicopters and some 100 fixed-wing chartered plane operator, according to DGCA. Total Indian has 356 aircraft with non-scheduled operators. For use by political leaders and other VIPs, the aviation regulator has made the use of twin-engine helicopters mandatory.
"In general, the cost of helicopter does not go beyond ₹2 lakh per hour, but during election season it goes up to ₹4 lakh... While there are many operators in India, there are only 3-4 brokers who provide them to the political parties," said another operator, requesting anonymity.
These brokers take the plane from owner and then rent it out to the political party since owner doesn't want to rent it out directly. Broker ends up getting ₹15000-20000 per hour.
A senior BJP functionary said the party has no option but to hire choppers and aircraft for engaging with the electorate during poll season. "On an average the PM and senior ministers, travel between two to three rallies in a day sometimes, it is not feasible to rely on road transport or even commercial flights...," he said requesting anonymity. On how much the expects to spend paying the companies from which hire choppers and planes ,the leader said the costs usually spiral during the polling season and given the rush for these services, the costs often spill over the allocated budget.
The Election Commission keeps tabs on the choppers and chartered planes used by political parties for campaigning given that these services entail big spending.
After the elections, all parties have to furnish a breakup of their spending, including travel by aircraft to the EC within 75 days; candidates have to do so within 30 days.
Parties that are not cash-rich complain that the use of private aircraft and helicopters for campaigning doesn't make for a level playing field.
The CPI's D Raja said, "... The BJP was the biggest beneficiary of these. It's time the EC considers state funding of elections to give all parties an equal chance," he said.