Lok Sabha elections 2019: Caste, Kushwaha's switch deciding factors in Karakat
Represented by Rashtriya Lok Samta Party (RLSP) chief Upendra Kushwaha, the Karakat LS seat is heading towards witnessing a tightly fought electoral battle.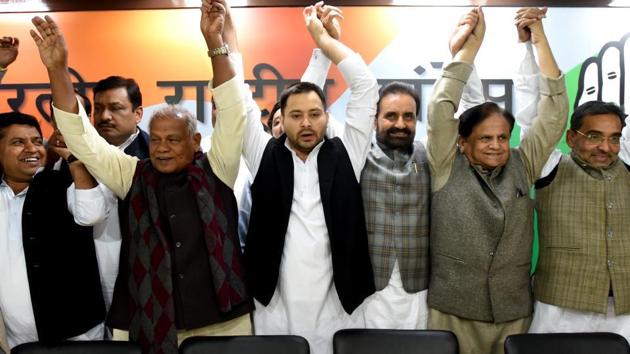 Published on Mar 18, 2019 01:39 AM IST
Sasaram |
Prasun K Mishra
With the Election Commission announcing the dates of the Lok Sabha polls, the political battle in the Karakat parliamentary constituency is sure to become a central attraction in the state. Two politicians, who are known to be the undisputed leaders of Koeries and Kurmis, will leave no stone unturned to secure victory in the seat.
Represented by Rashtriya Lok Samta Party (RLSP) chief Upendra Kushwaha, the Karakat LS seat is heading towards witnessing a tightly fought electoral battle. "The battle line has already been drawn by the Sone river," says Rajeshwar Raj, former JD (U) MLA from Karakat. "Goh, Obra and Nabinagar assembly constituencies across the river fall in Aurangabad district. The constituency is dominated by Yadav, Rajput and Kushwaha castes.
In December 2018, Upendra Kushwaha quit the NDA, citing BJP's 'arrogance' as the reason for his decision and joined the Grand Alliance. RLSP party workers say Kushwaha's switch has not dented support for RLSP in the region. "The situation is almost same this time too. In 2014 we were with BJP and this year we are with RJD. It is just that the party has changed, but the support is almost intact," said a local RLSP leader.
However he kept mum over the question whether Yadavs would feel comfortable to give support to a Kushwaha leader.
"Upendra Kushwaha had emerged victorious in the last election because of BJP's full support and the Modi wave was also a major factor. This time he is not going to get full support from RJD, as he got from the BJP last time. Despite unity in the Grand Alliance, a large section of Yadavs can't exercise their votes in favour of a Kushwaha leader," a local RJD leader said.
The caste factor in this seat has worried the Grand Alliance and the RLSP leader. RJD leader Kanti Singh, who is known to be very close to RJD chief Lalu Prasad, had expressed doubts over the integrity of Upendra Kushwaha. Singh is a strong contender for the seat and enjoys support from the upper castes as well.
In the 2014 Lok Sabha elections, Upendra Kushwaha had secured 3,38,892 votes while RJD nominee Kanti Singh had secured 2,33,651 votes. JD-U's Mahabali Singh was placed third with 76,709 votes.
JD (U) is considering fielding either Bhagwan Singh Kushwaha or Rajput leader and former MP Mina Singh from the seat. Singh is the wife of late MP Ajit Singh.
Bhagwan Singh Kushwaha, who recently joined JD (U) is a firebrand Kushwaha leader and has a large following in the Shahabad region. "Bhagwan Singh Kushwaha is expected to get a ticket from JD (U) in the coming LS polls," a JD (U) MLA said.
The Karakat Lok Sabha constituency comprises six assembly constituencies. Of these, four were won by RJD while one were won by each by JD (U) and BJP in the 2015 assembly elections.
As far as caste dynamics is concerned in the constituency, Kushwaha, Rajput and Yadav communities have 2 lakh voters each, followed by 1.6 lakh Brahmin –Bhumihar voters and 1 lakh SC/ST voters. The upper caste and SC/ST votes have always played a crucial role in deciding the fate of the winning candidate in Karakat.
Close Story
Personalise your news feed. Follow trending topics