BJP to repeat 2014 performance in Madhya Pradesh, say exit polls
In 2014, BJP almost made a clean sweep bagging 27 of the 29 Lok Sabha seats in the state.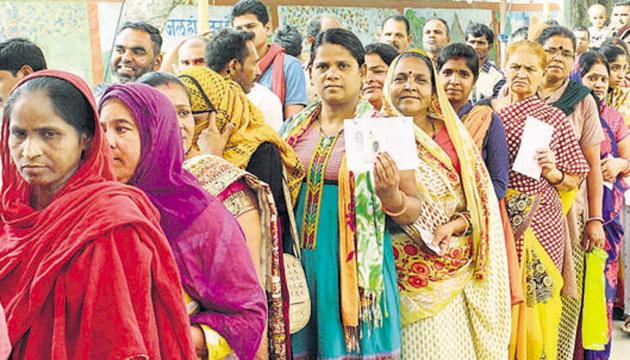 Updated on May 20, 2019 12:06 AM IST
Hindustan Times, Bhopal | By HT Correspondent
The BJP is holding firm in Madhya Pradesh where it is projected to win 26 to 28 seats according to India Today-Axis My India exit poll while the Congress .is expected to get between one to three seats.
It is virtually a repeat of its performance in 2014 .
According to the ABP exit polls, BJP set to win 24 out of 29 Lok Sabha seats in Madhya Pradesh. Congress may snap up 5 seats. The Times Now-VMR exit poll also makes a similar projection.
Today's Chanakya-News 24 survey gave the BJP 27 and the Congress 2 seats with a margin of error of two seats. India Today-Axis gave 24-26 to the BJP and 1-3 to the Congress.
In 2014, the BJP had won 27 seats but the Congress wrested power from it after 15 years in December, winning a slim majority in the 230-member assembly.
Exit polls often get it wrong and the actual results will only be known on Thursday, May 23rd when votes are counted.
Madhya Pradesh had made a significant contribution to the BJP's sweep of the 2014 Lok Sabha elections and the party hopes to replicate in this year's election, its performance of five years ago. The BJP had won 27 of Madhya Pradesh's 29 seats as Narendra Modi swept to power, with the Congress winning only two.
Since then, the Congress fought back to win one more Lok Sabah seat from Ratlam in a bye-election in 2915 before snatching power from the BJP after 15 years in the state late last year. The party hopes to extend the win would in this year's general elections.
Congress leaders including chief minister Kamal Nath have claimed that there is no change in public sentiment in the last six months and that the state's ruling party will turn the tables on the BJP this time too.
The Congress's optimism stems from its government's decisions to waive loan of farmers in the state, offer unemployment allowance to educated unemployed in urban areas, increase social security pension from Rs 300 to Rs 600 per month, increase financial assistance to weaker section people for their daughters marriages from Rs 25000 to Rs 51000, granting weekly day-off to police personnel in filed etc. Chief minister Kamal Nath, AICC general secretary Jyotiraditya Scindia and other Congress leaders stressed on these in their campaigns.
Also read: Exit Polls 2019 Live Updates: 3 exit polls predict clear majority for PM Modi-led NDA
BJP leaders, including Prime Minister Narendra Modi, BJP national president Amit Shah, former chief minister Shivraj Singh Chouhan and other leaders repeatedly accused the Congress government of betraying farmers in the name of crop loan waiver and unemployment allowance etc. besides highlighting the NDA government's central schemes like the Pradhan Mantri Awas Yojna (PMAY), Ujjawala Yojna, Ayushman Yojna, Swachh Bharat campaign etc.
Close Story