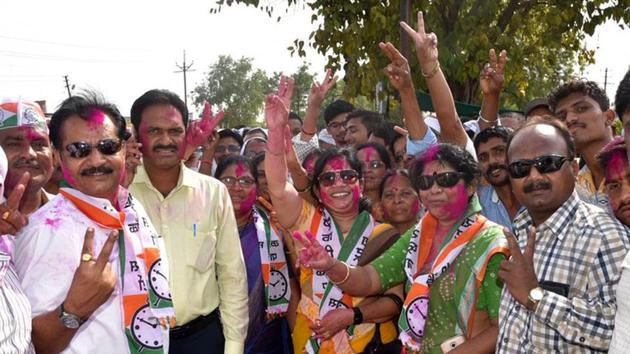 Bhandara-Gondiya bypoll: NCP win a big blow for BJP in Vidarbha
BJP candidate Hemant Patle lost the seat to NCP's Madhukar Kukde by more than 50,000 votes.
Hindustan Times | By Pradip Kumar Maitra
, Nagpur
UPDATED ON JUN 01, 2018 10:38 AM IST
Losing the Bhandara-Gondiya Lok Sabha seat to Nationalist Congress Party candidate Madhukar Kukde on Thursday has proved to be a major setback for the ruling Bharatiya Janata Party (BJP) in Vidarbha – its citadel in the state and the home turf of chief minister Devendra Fadnavis and Union minister Nitin Gadkari.
BJP candidate Hemant Patle lost the seat to Kukde by more than 50,000 votes. While Kukde got 4, 42,213 votes, Patle secured 3, 94,116 votes in the by-elections necessitated after BJP leader Nana Patole resigned from the Lok Sabha in protest against the "autocratic" style of Prime Minister Narendra Modi last year. He later joined the Congress. In the by-election, the Congress had extended its support to NCP candidate Kukde.
In the voting that was held on Monday, there were large-scale complaints of non-functioning electronic voting machines (EVMs) that led the Election Commission (EC) to conduct a re-poll at 49 booths on Wednesday.
The counting of votes in Bhandara-Gondiya constituency began on Thursday morning and Kukde took a lead over Patle from the beginning. The counting centre in Gondiya witnessed a tense atmosphere this afternoon when the police prevented Kukde from entering the centre despite showing his identity card. "It was a ploy by the ruling party to demoralise us," said Kukde.
Significantly, the by-elections saw Nana Patole, once a bete-noire of NCP leader Praful Patel, extensively campaign for Kukde – a Patel protégé. Patole had emerged as a giant killer in the 2014 Lok Sabha elections by defeating political heavyweight Patel by almost 1.50 lakh votes from the constituency.
While resigning from the Lok Sabha and as the primary member of the BJP, Patole had alleged that Prime Minister Narendra Modi does not like "being asked questions".
With the by-election result of Bhandara-Gondiya, former Union minister and senior Congress leader Vilas Muttemwar said there is a need for the formation of a secular front in Maharashtra ahead of the 2019 Lok Sabha and assembly elections. Muttemwar was defeated by Gadkari in 2014 from Nagpur by a margin of over three lakh votes. He also said all parties should keep their differences aside and work towards mobilising public anger against the BJP to defeat it in the ensuing general elections. Hailing the NCP's impressive performance in Bhandara-Gondiya by-election, NCP leader, Praful Patel meanwhile said the people of the area had rejected the BJP's divisionary politics.
Close