In Mumbai: Vidyavihar slum dwellers fear loss of livelihood, refuse to move
Some of the families have got alternate accommodation in Mahul village but have refused to move as the new homes are nearly 15km away and living that far would affect their current livelihood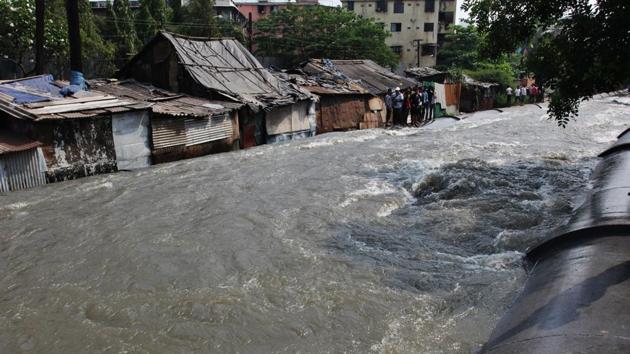 Updated on May 15, 2017 11:25 PM IST
Hindustan Times |
, Mumbai
Premaja Joshi
Hundreds of families who lived in shanties along the Tansa water pipeline in Vidyavihar, in Mumbai, have made makeshift shelters along a road close to the pipeline, after their homes were demolished on May 13.
Some of the families have got alternate accommodation in Mahul village but have refused to move as the new homes are nearly 15km away and living that far would affect their current livelihood. Under the National Rehabilitation and Resettlement Policy 2007, the government is supposed to provide alternate accommodation to these people within a 3-km radius of their old homes.
In 2009, the Bombay High Court ordered the Brihanmumbai Municipal Corporation (BMC) to remove slums along the main water pipelines in the city and keep a 10-m buffer zone around them. In the first part of the demolition on December 29, around 400 people were rehabilitated in tenements in Kurla.
Only families living on the site since before January 1, 1995, are eligible for the new homes. "Since I bought the house from its previous occupants in 2010, I am not eligible for an alternative accommodation. I have all my papers but I am not getting a home, so I have been living in the streets for the past two days" says Villas Dattarao, who works as a driver.
With monsoons around the corner, the slum dwellers are not sure about the plastic sheets they are using to cover the makeshift homes. A move to Mahul doesn't seem likely as it will lead to loss of livelihood and compromise on their children's education. Many of the displaced women work in nearby houses as domestic help. "I work in four houses in a colony nearby. If I shift to Mahul, I will lose my jobs," said Rama Godbole. "If we move to Mahul, my son will have to travel every day to attend school. We can't afford the additional cost", said 39-year-old Kamala.
Assisstant commissioner M (West) Wing Harshad Kale said, "We demolished 635 houses and 388 families received rehabilitation. The rest are not eligible for an accommodation. Only those who have been living on site since before January 1, 2000, are eligible for accommodations."
Slums along other water pipelines are also scheduled to be demolished. An official from K (East) ward said that demolition in Andheri will start by May 24. "1,407 families stay there, of which 650 are eligible to get an accommodation."
READ MORE
Close Story
Personalise your news feed. Follow trending topics