Nearly half of Maharashtra faces drought, 26 districts affected
Drought severe in 112 tehsils; 151 of 358 tehsils hit, says state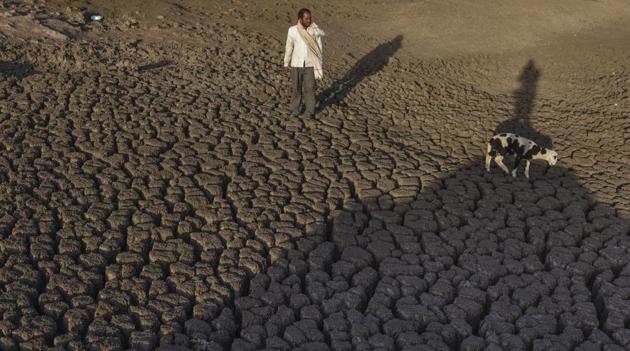 Updated on Nov 01, 2018 09:36 AM IST
The Maharashtra government declared drought in 151 tehsils spread across 26 districts on Wednesday, taking the first step in a months-long process to provide farmers with relief measures and alternative employment.
A little less than half of all tehsils in the state are reeling under drought — 112 tehsils are facing severe drought conditions, which means more than 60% of the crops have been damaged, while the remaining 39 tehsils are facing moderate drought, where crop damage is more than 33.5%.
Of Maharashtra's 358 tehsils in 36 districts, tehsils in 26 districts are affected by drought, a government resolution, issued on Wednesday, said.
The government will put in place relief measures to help farmers, such as waiving farm loans, granting exemptions in land revenue, a 33.5% concession on electricity bills of agriculture pumps, waiving exam fees of students in schools and colleges and sending drinking water tankers, among other steps.
This will continue in all the affected areas over the next six months. The state will approach the Centre for aid.
The 26 districts hit by drought are Aurangabad, Beed, Hingoli, Jalna, Nanded, Latur, Osmanabad, Parbhani, Ahmednagar, Dhule, Jalgaon ,Nashik, Nandurbar, Akola, Amravati, Buldhana, Yavatmal, Washim,Wardha, Chandrapur, Nagpur, Pune, Sangli, Satara, Solapur and Palghar. In 2016 — the last time the state was faced with drought — the affected districts were restricted to the Marathawada and Vidarbha regions.
This time, however, drought has hit districts across the state, spanning Vidarbha, Marathwada, north and west Maharashtra and the Konkan region.
During manual verification of the ground conditions, a mandatory step before declaring drought, five districts — Jalgaon, Beed, Ahmednagar, Aurangabad and Solapur — were found to be affected by the calamity the most.
Thirteen of Jalgaon's 15 tehsils, all 11 tehsils of Beed, all nine tehsils of Aurangabad, 11 of 14 tehsils in Ahmednagar and nine of 11 tehsils in Solapur are facing severe drought conditions.
In October, the state listed 180 tehsils, on the basis of a report by the National Centre for Crop Forecasting (NCCF), a forecast agency that works under agriculture ministry.
The NCCF report is compiled based on remote sensing data on the crop area sown, groundwater table index, reservoir storage, vegetation index and deficient rainfall.
However, after the manual verification, also called ground-truthing, the state has decided to declare drought in 151 tehsils. The manual verification was conducted by officials from state relief and rehabilitation and agriculture departments.
The intensity of the drought will be contingent upon the values of at least three out of four impact indicators — Agriculture, Remote Sensing, Soil Moisture and Hydrology conditions. If all the three impact indicators are in severe category. than the state can declare severe drought in those areas. Similarly, if two of the selected three impact indicators are in thw moderate or severe class, then the area will have to be declared as affected with moderate drought, a senior official from the relief and rehabilitation department said.
Close Story