Mumbai doctors remove 5.5kg tumour from woman's kidney, make it to Guinness Book of World Records
Updated on Oct 05, 2017 09:30 AM IST
The tumour was removed from the abdomen of Bihar resident Manju Devi, 28, in November 2016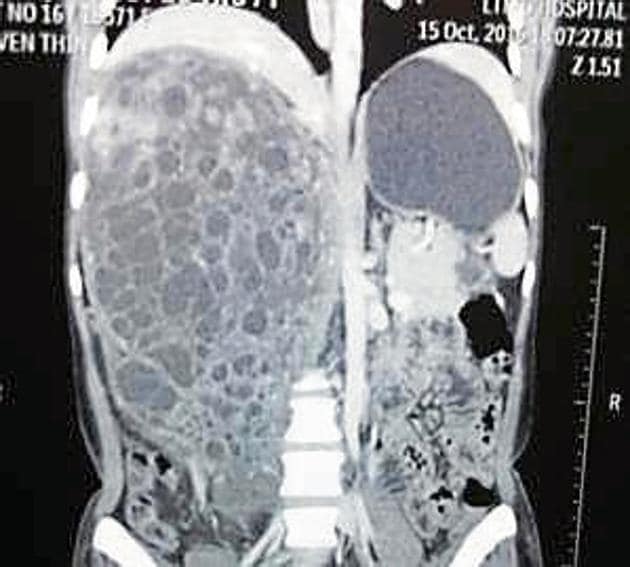 Hindustan Times |
, Mumbai
Sadaguru Pandit
Almost a year after they applied, surgeons from Sion Hospital entered the Guinness Book of World Records this week for removing the 'heaviest kidney tumour'. Surgeons said the 5.5kg tumour was 50 times heavier than a healthy kidney, which weighs about 110 to 140 grams. The 31cm wide and 19cm long tumour was removed from the abdomen of Bihar resident Manju Devi, 28, in November 2016.
"We are thrilled to inform you that your application for heaviest tumour removed has been successful and you are now the Guinness World Record title holder," reads the e-mail sent by the Guinness Book of World Records officials. The mail was sent earlier this week to Dr Ajit Sawant, head of the urology department at the hospital, who performed the surgery with his three colleagues.
Sawant said Manju, a resident of Darbhanga district, had come to the hospital with a painful abdominal lump and had been passing blood in urine for the three years. "Her daily activities had come to a halt because of the huge mass in her stomach," said Sawant.
She was referred to Sion Hospital after being turned down by multiple local hospitals, who deferred operating on her due to the size of the tumour.
"A CT scan revealed that the tumour had completely taken over the right kidney, compressed the liver and pushed the great vessels (large vein that carries deoxygenated blood from the lower and middle body into the right atrium of the heart), intestines and the pancreas towards the left side of the abdomen," he added.
The doctors then planned a supra-major surgery after Manju's complete evaluation. The mass was successfully removed during an eight-hour surgery performed by a team of specialist, including Sawant, Dr Prakash Pawar and uro-anesthetists Dr Geeta Patkar and Dr Aparna Nerulkar.
Manju, who recovered within a week, was kept on ventilator post-surgery.