Second big Deonar fire doused, BMC says it was sparked off
Fire at Deonar dumping ground could have been sparked by miscreants, civic chief Ajoy Mehta said hours after the flames was brought under control.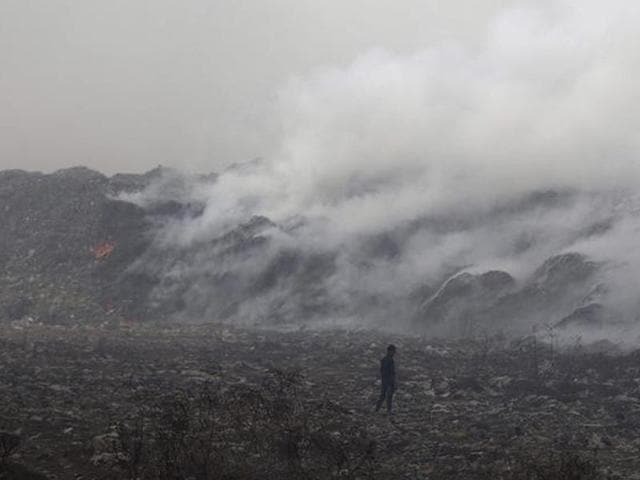 Published on Mar 22, 2016 12:51 AM IST
Sunday's fire at Deonar dumping ground, the second major one in as many months, could have been sparked by miscreants, civic chief Ajoy Mehta said on Monday, hours after the flames was finally brought under control.
This is the second major fire at Deonar since January, when smoke from the raging flames engulfed neighbouring areas. Both chief minister Devendra Fadnavis and police commissioner Dattatray Padsalgikar had ordered probes into the January incident. The BMC had suspected sabotage in that case too and are waiting for the probe reports.
"This time, the fire erupted on the Vashi creek side, so there is a possibility of sabotage. We have filed an FIR," said Mehta, and added that in light of the repeated fires, the Deonar dumping ground will be declared a 'prohibited area' and rules will be put down to restrict entry.
"Currently, there is no control over entry into the dumping ground. People have easy access. Rules will now be framed for restricted entry," Mehta said.
The civic chief also announced a slew of measures to prevent these incidents in the future, including setting up 40 night vision cameras and 12 CCTV cameras around the dump yard to monitor movement; station 10 fire tenders permanently and dig up 4-5 bore-wells to provide water.
The residents of the area, however, pointed out the BMC was yet to put in place the prevention methods it had suggested after the January fire, after which there have been eight fire breakouts.
Local corporators alleged the BMC was re-announcing old measures.
"The civic body has failed to provide any concrete measures to control the repeated fires. The same old statements are being circulated, without any development on the ground," said Rais Shaikh, Samajwadi Party group leader.
Congress group leader Pravin Chheda said, "The BMC has failed to implement any of its promises in Deonar. Besides, the dumping ground is already a prohibited area."
Among the measures announced after the January 28 fire were construction of a compound wall and installation of CCTV cameras. The BMC had also asked IIT-B and NEERI for suggestions. IIT submitted its preliminary report in February about how the BMC can solve the issue of trapped methane stoking the fire. In the month since the report was submitted, no methodology has been implemented, leading to repeated pocket fires. IIT's final report was submitted on March 19. BMC announced it has asked IIT-Bombay to design the 'methane gas well'.
Close Story
Personalise your news feed. Follow trending topics