Hitting the right keys, getting ready for the Giants of Jazz festival
A special festival is bringing together an eclectic mix of international names and local jazz talent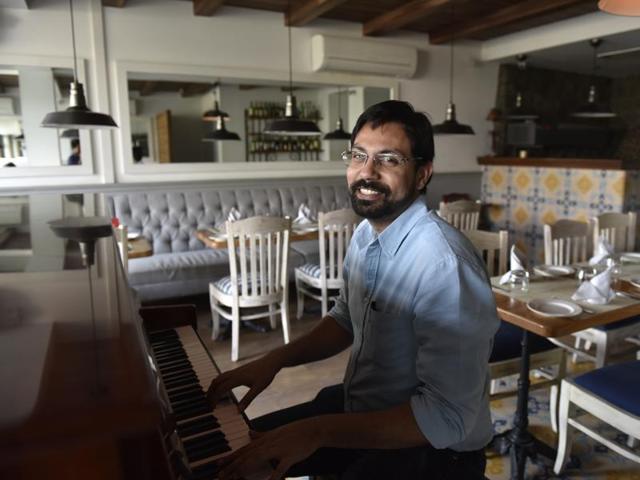 Updated on Nov 19, 2016 09:22 AM IST
The Piano Man Jazz Club is borderline exclusive and that, I am guessing, is not by chance. The music the club plays – ragtime, cotton-field blues, Latinate, crossovers, free funk – is a crowd-pleaser. The good thing about this jazz club that is serious about its jazz.Jazz, here is reality. It's not a flavour of the season.
The club is spread across two floors. On the ground floor is a stage, a piano and close-set tables. Upstairs is the bar and a 30-seater restaurant where you can sit with your pulled pork or lamb sliders and a red Sangria.
Every day, 9 pm onwards, is performance night here - known and unknown musicians get equal billing as they get up on its stage. The bar upstairs is asked to shut up if the noise drowns out the piano downstairs -- you can't have bar-room chatter drowning out the music in a piano-centric club, can you?
Proprietor Arjun Sagar Gupta, 31, a jazz musician himself who plays the piano, is very etiquette-conscious. And he has to be. A 10-day-long festival is being hosted from this weekend at this 14-month-old club with live performances of the best jazz artists from around the world.
A March 2016 performance by Parvati (vocals) and Arjun (piano)
Gupta, a trained engineer wo has been playing the piano for the past 15 years, is running up and down the wooden staircase, the afternoon we drop by. The staircase links Upstairs with Downstairs. Overhead, the chandelier custom-made out of 58 trumpets, gleams.
Is he excited about organising the festival? He has done it before, he says. This is the festival's second edition. He takes a break from checking the acoustics to talk about jazz as "ideology" and that it's a genre of music that rests on improvising and interpreting a 120-year-old musical tradition. "Jazz is not just one thing. Unlike classical music you don't have to play it the way it is written," he says.
The young entrepreneur is a jazz liberal. The lineup of the festival is naturally eclectic – a mix of jazz greats plus local talent. For example, on November 22, there is the Worldservice Project, a band that is the leading specialist of British 'punk-jazz'. Singer-composer Malika Tirolien of Canada made famous by her explosive collaboration with Grammy Winner band Snarky Puppy is another festival highlight. She will be performing Afro-Caribbean jazz on November 24.
Jazz has many schools. What is the 'sound' Gupta prefers? "In vocals, I like singers whose voices are warm and rounded," he says. Singers don't have to try to be Ella Fitzgerald or Nina Simone, even though they may begin by imitating the best singers, he says. "Singers need to create their own sound."
Watch Ron Cha (Ronojit Chaliha), the jazz whiz from Guwahati
Indian artistes are a regular part of the dos at the club. But Gupta prefers not to do fusion. "I have nothing against Indian classical music but one has to understand it is micro-tonal. Jazz, on the other hand, has a 12-tone music scale," explains Gupta who has been on a Fulbright scholarship in 2007 to study music in Boston and has been part of a band, The Variety Hour, since then.
"Indian classical percussion can be used well in Jazz - but melodic instruments and voices can be iffy, for me, when mixed with jazz. That said, we have had some ethnic ensembles that have played beautiful music, for example, WEME (World Ethnic Music Ensemble) which included guitar, flute, mandolin, sitar, table and the darbuka," he adds.
Who's playing at the festival tonight? There is a performance by Borders, a quartet based out of Delhi. Booking a table is recommended.
What: Giants of Jazz festival
Where: The Piano Man Jazz Club, B 6- Commercial Complex, Safdarjung Enclave, opposite Deer Park. Table booking recommended. Call: 4131 5181. Nearest metro station: Hauz Khas
When: Till November 26, 9 pm onwards
Close Story
Personalise your news feed. Follow trending topics