It's our dream to perform near the Taj Mahal, says K-pop group IN2IT
K-pop group IN2IT, who wowed audiences in Delhi and Mumbai with their energetic performances and a special filmi tribute, would love to return for Bollywood projects.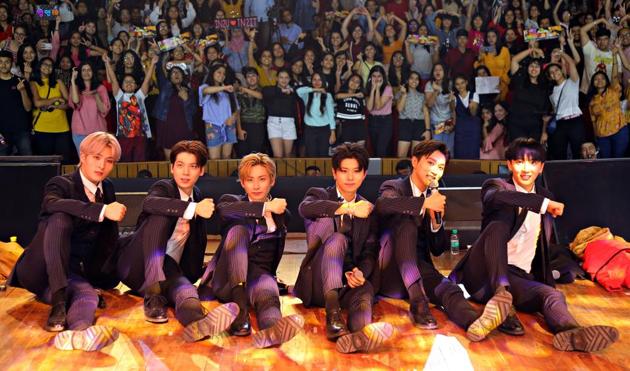 Updated on Apr 23, 2019 01:38 PM IST
"Hum aapse pyaar karte hain" followed by "Aap bahut khoobsurat hain" and more, K-pop group IN2IT went all out to make sure their first India tour, with stops in Mumbai and Delhi, was a memorable one. Not only did they charm the audience with their endearing attempts in Hindi, they whipped the crowd into a frenzy with a special performance on the Shah Rukh Khan and Hrithik Roshan-starrer Bole Chudiyan (Kabhi Khushi Kabhie Gham; 2001).
The group admits they were surprised by the recognition K-pop has in India and touched by the enthusiastic response they received here. "We arrived in Mumbai really early in the morning (2-3am) and a lot of fans were there to greet us. Even at the Delhi airport, fans waited for us even though it was raining. At the concerts, the audience sang and danced with us. We were very happy and thankful for it," Inpyo, the leader of the group, says.
READ | Z-Boys' Sid: If you can dream it, you can make it happen
Talking about their Bollywood performance, videos of which took the Internet by storm and won them new fans, Isaac shares, "We had a lot of fun practising it! Even after practice, we would sing the song in our car." Revealing that it took them a week to learning the choregraphy, he also mentions being impressed by how high key the female vocalist was able to sing, going as far as to spontaneously attempt the high note during the interview.
The group is super excited when asked about the possibility of a Bollywood collaboration. "Definitely! Whether it's a cameo in a film or a commercial, we would love to be part of anything Bollywood," gushes Isaac.
On whether they liked the Indian cities, Jiahn says they were impressed by Mumbai's Gateway of India, which was grander than they had expected it to be. Isaac adds that the group was fascinated by the over 100ft-high statue of Hanuman in Jhandewalan, New Delhi. And all of them loved Indian cuisine. "Hyunuk is a foodie. He loves to eat curry even in Korea so when we came here, we wanted to try the authentic Indian curry. We also liked Tandoori Chicken, Biryani, and Samosas," says Inpyo.
But the group leaves India with an unfulfilled dream — to perform near the Taj Mahal. "Unfortunately, we won't have time to see the Taj this time, so, we hope to visit India again soon," Isaac says.
Interact with the author at Twitter/@TheMissCurious
Follow @htshowbiz for more
Close Story