Rafael Nadal hails Carlos Moya's impact on training routine
Updated on Sep 27, 2017 05:03 PM IST
Rafael Nadal has hailed the impact Carlos Moya has had since joining his coaching team. Nadal, who recently helped Team Europe win the Laver Cup, has won two Grand Slams since Moya's appointment.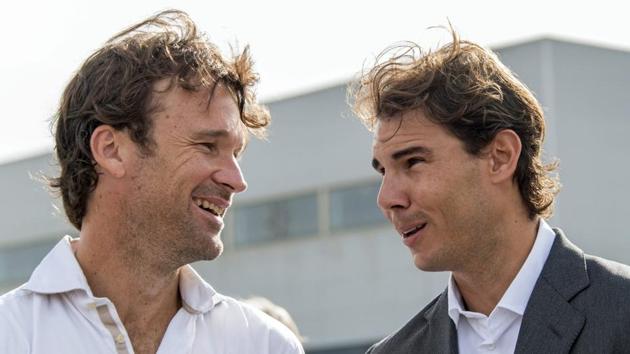 World No. 1 Rafael Nadal says the addition of compatriot Carlos Moya to his coaching team has added freshness and positive energy to the Spaniard's training routine.
Moya, a former world number one, joined Nadal's team to work with his uncle Toni Nadal last December and has helped revitalise the 31-year-old's career.
(Read | Power couple Rafael Nadal, Roger Federer rule out full-time partnership)
Plagued by injuries and a loss of form in the past two years, Nadal has risen to number one in the rankings and won his 10th French Open title and third U.S. Open this year. He lost to his great rival Roger Federer in the Australian Open final.
"Carlos has been a great support. He came with excitement and also the belief that with a few things, I could improve my results. And it has helped," Nadal told Spanish newspaper El Espanol.
(Read | Simona Halep, Caroline Wozniacki out at Wuhan Open, Garbine Muguruza through)
"It has been a breath of fresh air, positive energy. We have changed the way we practice and for Toni it has been also good."
Nadal said Moya came on board and studied his daily practice sessions before offering specific ideas on how he could improve his game.
(Read | Novak Djokovic to keep Andre Agassi as head coach)
"When someone new arrives, it's easier to listen because it's something different. For Toni, having Carlos' reinforcement when he had to talk to me, has made everything much easier."
Toni had said earlier this year he intended to step down from his role at the end of the season and Nadal praised his efforts working with Moya and Francisco Roig.
"They have been a great team and I am very satisfied with their job, with the three of them," he said.
Nadal will play in Beijing and Shanghai next month as he looks to secure the year-end number one ranking and winning his first ATP Finals title.