Latest from brexit process
PM Theresa May on Monday night suffered another setback in the House of Commons when MPs upheld a motion 329 to 302 seeking to determine the way ahead on Brexit, as three more of her ministers resigned in protest.

Updated on Mar 26, 2019 07:58 PM IST
British Midland Regional Limited, which operates as Flybmi, said it's filing for administration — a British version of bankruptcy — because of higher fuel costs and uncertainty caused by Britain's upcoming departure from the European Union.

Published on Feb 17, 2019 07:46 PM IST
London |
By
Associated Press
Prime Minister Theresa May's Brexit Plan B is due to be voted in the House of Commons on Tuesday. A raft of amendments to the Plan B statement made by May last week will also be taken up on Tuesday, seeking to alter aspects of the Brexit process.

Published on Jan 28, 2019 08:59 PM IST
May's Plan B statement will also be subject to amendments before being put to a vote in the House of Commons on January 29. Unless the discredited agreement is brought back with changes incorporating the views of the rebels, it is unlikely to be passed.

Updated on Jan 20, 2019 09:09 PM IST
Cut-and-thrust between pro and anti-Brexit forces intensified as the five-day Brexit debate began after Prime Minister's Question Times, when May announced that MPs will get the final say on whether the controversial 'backstop' for Ireland-Northern Ireland will come into force or not.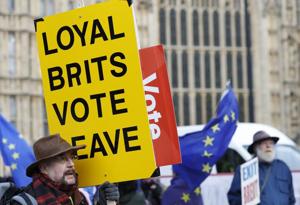 Updated on Jan 10, 2019 12:16 AM IST