Latest from council of ministers
Here are today's top news, analysis and opinion. Know all about the latest news and other news updates from Hindustan Times.


Published on Dec 29, 2021 08:57 AM IST
The meeting comes at a time when Omicron cases are rapidly rising across the country. Another talking point in the meeting is likely to be the assembly elections scheduled to be held in five states next year.


Published on Dec 28, 2021 06:50 PM IST
The cabinet reshuffle was held on Wednesday at the Rashtrapati Bhavan where newly-inducted minsters took oath. The expansion saw more representation to states which will go to the polls next year.


Published on Jul 08, 2021 05:36 AM IST
The meeting comes amid speculation around cabinet reshuffle. The exercise is expected to take place before the monsoon session of Parliament begins next month.


Published on Jun 30, 2021 05:53 AM IST
The BJP meeting comes amid attack by opposition parties over reports of alleged tampering of electronic voting machines (EVMs).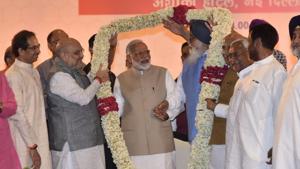 Updated on May 21, 2019 11:46 PM IST