The video that shows a happy gorilla dancing in a tub has gone viral again, and has become a source of happiness for many.


Published on Nov 30, 2022 07:55 PM IST
This video that has been shared on Instagram on the page of The Dian Fossey Gorilla Fund, shows how a baby gorilla tries to sneak his older brother's snack while he is taking a nap.


Published on Aug 03, 2022 01:55 PM IST
Ndakasi, the mountain gorilla who became world famous in 2019 after its selfie with a park ranger went viral, passed away last week aged 14, taking its last breath in the ranger's arm, Metro has reported citing the Virunga National Park. "Ndakasi took her final breath in the loving arms of her caretaker and lifelong friend Andre Bauma,"the park, located in the Democratic Republic of the Congo, said in a statement.

Published on Oct 07, 2021 10:38 AM IST
While intraspecies violence is a relatively common phenomenon in mammals, interspecies violence has mainly been investigated in the context of predation, according to the study.


Published on Jul 23, 2021 12:40 AM IST
Pastry chef Amaury Guichon used 45 kg of chocolate to make this gorilla sculpture.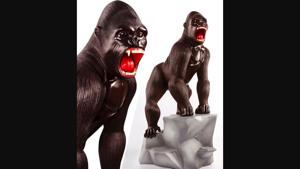 Published on Jun 18, 2020 06:19 PM IST