Latest from hanuman chalisa
Lucknow police commissionerate has clarified that the Hindus arrested earlier were because of chanting Hanuman Chalisa at the LuLu Mall as misinformation spread on social media that Hindus posed as Muslims and offered namaz.

Published on Jul 20, 2022 07:32 AM IST
A video purportedly showing some people offering namaz at the mall surfaced on social media on Tuesday. Right-wing outfits objected to people offering namaz inside the mall and sought permission from the authorities concerned to recite the Hanuman Chalisa there, which was declined.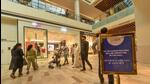 Updated on Jul 17, 2022 12:16 AM IST
Akhil Bharatiya Hindu Mahasabha sought permission to read Sundar Kand in front of Lucknow's LuLu Mall after the namaz video went viral. The mall authorities have filed an FIR amid the namaz row.

Published on Jul 15, 2022 07:43 AM IST
Shiv Sena MP Sanjay Raut's statements come following the ED conducting searches at nearly seven places in Pune, Dapoli and Mumbai last week linked to Maharashtra transport minister Anil Parab, who is a close confidant of chief minister Uddhav Thackeray.

Updated on Jun 01, 2022 09:04 PM IST
Written by Sharangee Dutta | Edited by Aniruddha Dhar
, New Delhi
Ravi Rana rejected the charges, stating neither he nor his wife Navneet Rana violated any norms while attending welcome events organised by their supporters at Nagpur and Amravati.

Published on May 29, 2022 06:13 PM IST