The national spokesperson of Hindu Janajagruti Samiti (HJS) Ramesh Shinde said that if they do not stage protest against stand-up comedian Vir Das, then it would mean they support his 'two Indias' remark.

Updated on Nov 12, 2022 02:06 PM IST
In a change of scene, Hindus and Muslims came together in Bidar for a festival worshipping Allama Prabhu on Monday.

Updated on Mar 31, 2022 04:24 PM IST
The Centre's affidavit maintained that notification of any community specific to a state as a minority comes under the purview of the state concerned.

Updated on Mar 28, 2022 04:43 AM IST
Uttar Pradesh assembly elections 2022: In 2012, with a population that has 41.95% Muslims, and 21% Dalits, of its seven seats, four were won by the Bahujan Samaj Party, one by the BJP, one by the Congress, and one by the SP. In 2017, aided by a fierce Hindu polarisation, the BJP won four seats, including Deoband, with two going to the Congress, and one to the SP.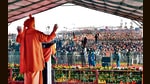 Updated on Jan 30, 2022 11:47 PM IST