Latest from lgbt community
State governments can have great impact on safeguarding LGBTQIA+ communities from bias, and one hopes that the intent behind these bills will be reflected in the everyday policies of administrations run in these states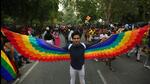 This post shared on Twitter shows how a grandma made sure to accept her trans grandchild, by making some adorable alterations to a doll she gifted him during childhood.

Crow came out to his mom as trans, through a sweet and fun little letter. His mom, Cherie Garcia's reaction to the artistic coming out letter made many on Twitter laugh out loud.
Polish LGBT activists posted a scan of the letter on social media and on Monday a spokesman for the Lubelskie region confirmed receiving it. A European Commission spokeswoman in Warsaw also confirmed the letter had been sent.

Reuters | | Posted by Sharangee Dutta
, Hindustan Times, New Delhi
"In celebration of Pride Month, today's #GoogleDoodle honors astronomer, veteran, & gay rights activist, Dr. Frank Kameny—an influential figure in the LGBTQ rights movement," Google wrote while sharing the doodle.