[
organisation of islamic cooperation
]
Latest from organisation of islamic cooperation
External affairs ministry spokesperson Arindam Bagchi reiterated that these comments "do not, in any manner, reflect the views of the government of India" and "strong action" has been taken against the individuals by relevant bodies.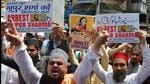 Updated on Jun 06, 2022 10:15 PM IST
External affairs ministry spokesperson Arindam Bagchi described the remarks of the Independent Permanent Human Rights Commission of OIC on Yasin Malik's conviction and sentencing as unacceptable.


Updated on May 28, 2022 01:21 AM IST
MEA spokesperson Arindam Bagchi said the bloc should refrain from carrying out its "communal agenda" at the behest of another nation.

Updated on May 16, 2022 11:02 PM IST
In addition to the members of the OIC, delegations from the United States, Russia, United Kingdom, the European Union, the World Bank and humanitarian organisations have also been invited to the conference.

Published on Dec 19, 2021 07:28 AM IST
The statement comes almost a week after India rejected Pakistan minister Shireen Mazari's criticism of the human rights situation in Jammu and Kashmir.

Published on Mar 02, 2021 04:25 PM IST