The Rajasthan police filed an FIR against Yoga guru Baba Ramdev on Sunday, a day after a purported video went viral where he accused Muslims of committing terrorist acts and abducting Hindu women.


Published on Feb 05, 2023 09:27 PM IST
Yoga guru Ramdev purportedly said women look good in sarees, in salwar suits and also when they wear nothing. Delhi Commission for Women chairperson Swati Maliwal asked for an apology for the comment.

Published on Nov 26, 2022 02:50 PM IST
On November 9, the Uttarakhand authority ordered ban on production of BPgrit, Madhugrit, Thyrogrit, Lipidom and Eyegrit Gold tablets, which the Divya Pharmacy, part of Patanjali Group, aggressively advertised as cure for these diseases.


Updated on Nov 13, 2022 07:19 AM IST
"We are pleased to inform you that Swami Ramdev Ji Maharaj will address an important press conference on 16th September 2022 in New Delhi," Patanjali said in a statement.


Updated on Sep 15, 2022 04:18 PM IST
Written by Harshit Sabarwal | Edited by Aryan Prakash
, New Delhi
Ramdev said these companies are Patanjali Ayurved, Patanjali Wellness and Patanjali Medicine and Patanjali Lifestyle. The companies will be listed on the stock exchange during the next five years.


Updated on Sep 11, 2022 10:26 PM IST
A bench headed by Chief Justice of India (CJI) NV Ramana took exception to the contents of several advertisements issued by Patanjali ridiculing allopathy and blaming it for deaths and ailments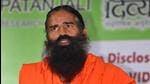 Updated on Aug 24, 2022 07:24 AM IST
The court directed the yoga guru to refrain from making unsubstantiated claims while speaking in favour of Patanjali product Coronil.


Published on Aug 18, 2022 04:47 AM IST
"From the perusal of the clips, there is definitely a case for the institution of the suit. They (plaintiffs) may have nothing for an injunction but the case is not frivolous," Justice C Hari Shankar said.


Published on Oct 27, 2021 07:38 PM IST
In the video, Aamir Khan can be seen talking with Dr Samit Sharma who explains the price difference between generic drugs and drugs available in the market.


Published on May 30, 2021 07:42 AM IST
The letter said that in a viral video, Ramdev was seen claiming that 10,000 doctors have died in the country despite taking both the doses of the vaccine.


Published on May 27, 2021 03:38 AM IST
IMA appealed to PM Modi to take appropriate action against those "viciously propagating the message of fear on vaccination" and challenging the government's protocols for treatment for "their vested interest in their company products".


Published on May 26, 2021 06:13 PM IST
Ramdev asked if allopathy offered relief from hypertension and type-1 and 2 diabetes. "Does pharma industry have permanent treatment for thyroid, arthritis, colitis and asthma?" he asked.


Updated on May 25, 2021 01:00 PM IST
In this week's The Taste, Vir Sanghvi writes, "Such is the despondency over our politicians that many people are now actively considering emigrating to other countries"


Updated on May 06, 2021 01:21 PM IST
Patanjali had earlier introduced Ayurveda-based Coronil on June 23 last year, when the pandemic was at its peak. However, it had to face severe criticism as it lacked scientific evidence.


Published on Feb 19, 2021 01:39 PM IST