The atlas, the first of its kind, will aid in disaster preparedness as extreme weather events rise in the wake of the climate crisis, scientists said.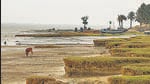 Updated on Jan 18, 2022 04:46 AM IST
Subsequent investigations led to the arrest of six people, including prime suspect Nur Alam Khan, and a couple from the village of the two girls.


Updated on Jan 17, 2022 11:51 PM IST
This is worrying because the mangrove forests acts a green buffer against cyclones, protecting Kolkata from bearing the direct brunt of storms that originate in the Bay of Bengal.

Updated on Jan 14, 2022 12:36 AM IST
Here are today's top news, analysis and opinion. Know all about the latest news and other news updates from Hindustan Times.


Published on Jan 13, 2022 04:37 PM IST
The Forest department said the cause of death of the tiger did not appear to be cyclone Yaas and its aftermath but old age while adding that a post-mortem of the carcass would confirm the real reason.


Published on May 30, 2021 02:29 PM IST