ZyCoV-D, which was cleared by the DCGI in August last year, is a needle-less vaccine, and will be administered in three doses.


Published on Feb 02, 2022 10:21 AM IST
Zydus was expected to supply the first batch of its Covid-19 vaccine to the central government around the end of December last year.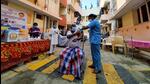 Updated on Jan 19, 2022 05:12 AM IST
According to the company, the Centre has placed an order of 10 million vaccine doses, at ₹265 per dose


Updated on Dec 17, 2021 04:31 AM IST
Zydus Cadila's Covid-19 vaccine ZyCoV-D will initially be used in districts in 7 states having low first dose coverage before it is rolled out nationwide, the Union health ministry said on Thursday.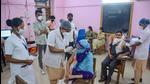 Updated on Dec 03, 2021 12:39 AM IST
The Centre placed an initial order for 10 million dose of ZyCoV-D with the Ahmedabad-based firm. The initial batch will be used only for adults.


Published on Nov 18, 2021 10:22 PM IST