Cat shows amazing ability as it leaps high in the air to catch toy. Watch
Published on Jun 07, 2022 08:29 PM IST
The cat showed amazing ability as it jumped high in the air to catch his feathered toy.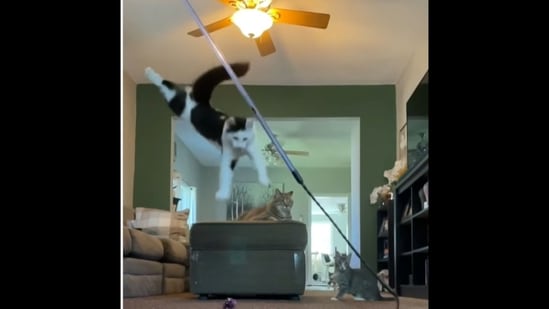 Pet parents love to record their furry friends doing tricks and showing their skills. Like this video posted on Instagram that shows a cat showing some amazing ability to leap high in the air to catch his toy. The cat's video is an absolute delight to watch.
The video opens to show a black and white cat named Chui jumping high to catch his feathered toy. Behind him, his two siblings can be seen watching him transfixed. Shortly after two more jumps, a third cat can be seen running towards all the cats, to join in as a spectator. All in all, Chui makes five leaps in the clip that has been played in slow motion.
The video has been captioned, "But seriously…HOW COOL ARE CATS!!!⁠ Check out Chui and his incredible leaping ability in slow motion!"
The video was originally posted to @kittyforsterroxanne on Instagram. After being reposted to the official @catsofinstagram page a few hours ago, the video has amassed more than three lakh views.
Watch the video below:
The comment section of the post is filled with reactions from netizens.
"That is so mesmerizing to watch," writes an Instagram user. Another comment reads, "OMG! Great performance." A third shared, "Cats jumping slo-mo seems so grateful." "Cats are like flying squirrels in the sense that they lock on to a landing target mid-air really fast so they always end up landing on their feet," reads another comment.
What are your thoughts on the video?
Personalise your news feed. Follow trending topics