Swiggy's tweet on condom sale on New Year's Eve receives witty response from Durex India
Jan 03, 2023 04:27 PM IST
Swiggy took to Twitter to share about the massive surge in condom sales on Instamart on New Year's Eve, and it has received a witty response from Durex India.
On New Year's Eve, social media was filled with greetings and resolutions for the coming year. People also posted videos and photos that captured how they spent the last day of 2022. However, food delivery platform Swiggy made an unusual tweet and shared about the massive surge in condom sales on Instamart that day. Not just this, they further requested their customers to order a particular number of condoms so that they can say 'nice'. They also tagged Durex India and their grocery delivery platform Swiggy Instamart. A few minutes later, Durex India responded to the tweet, and their witty reply has sparked chatter online.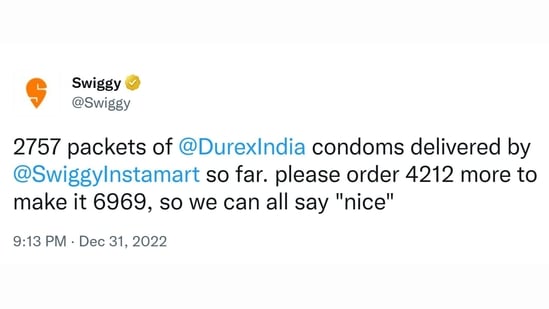 "2757 packets of @DurexIndia condoms delivered by @SwiggyInstamart so far. Please order 4212 more to make it 6969, so we can all say 'nice'," wrote Swiggy on Twitter. The next day, they replied to their own tweet and shared a screenshot with the caption, "nice."
Take a look at Swiggy's tweets below:
"Thank you for 'delivering' them O's. We know atleast 2757 are having a banging new year ;). P.s: We hope they order coffee together tomorrow morning," wrote Durex India while responding to Swiggy's tweet. Swiggy Instamart responded to this and wrote, "@durexindia the people who ordered these 2757 condoms are probably not reading this rn."
Take a look at the tweets below:
Swiggy's tweet, since being shared on December 31, has received more than 4.3 lakh views and over 8,400 likes. It has also raked up several comments and retweets.
Here's how social media users reacted to the tweet:
"Hey @Swiggy Can you please send some sympathy for singles??" commented an individual. "Thanks for the fast delivery," shared another. "Does your mission accomplished or not? Mission 6969," joked a third. "Another wave of deliveries is coming soon (14Feb). Are you ready for it?" enquired a fourth.