Janmashtami 2017: Actor Nitish Bharadwaj recollects his days from the Mahabharat
Updated on Aug 14, 2017 09:56 PM IST
The actor says that Janmashtami is the birth of every virtue that Krishna stood for — from breaking the shackles of bondage to challenging the system if it is going wrong.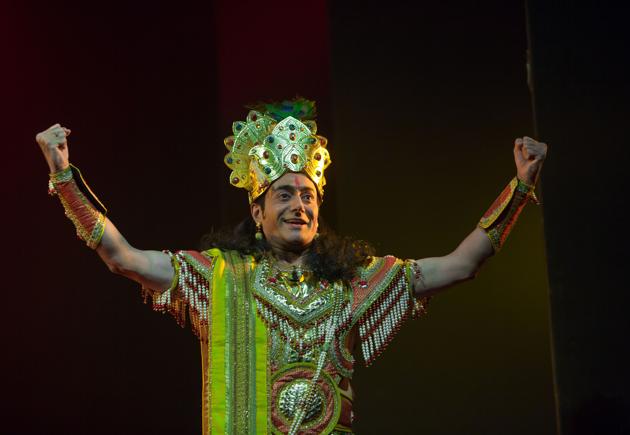 If Krishna is usually cherished for his raas leela, then he's also remembered for his sermon of Bhagvad Gita, and his significant role in the Mahabharata. Mention the classic TV series Mahabharat by BR Chopra and actor Nitish Bharadwaj's strong portrayal, fluent dialogue delivery and impeccable body language comes to mind.
On the occasion of Janmashtami, the actor recollects that it was his knowledge that made him accept the offer of playing Krishna in the TV show. "My knowledge of the scriptures, Sanskrit language, reading of various analyses of Mahabharata from Marathi literature, and most importantly [it was] my mother's faith in me that I can perform Krishna with all my strengths," says Bharadwaj.
It isn't, however, just the serious tales from the sets that remain afresh in his mind. He says, "It was day one of Roopa Ganguly's shoot on the sets. Everyone was eager to meet her as the stories of her beauty had preceded her entry on the sets. I know of people who had planned to impress her. I was sitting in one corner, reading Osho's book on Krishna. Roopa made the entry, met Ravi Chopra, Dharam Chopra (the DoP of the serial), saw me and came straight to sit with me and introduced herself. While she was telling me of a Bengali novel, she read about Draupadi and Krishna, almost the entire cast was green with envy or jealousy and were giving me dirty looks. I was greatly amused!"
The actor says that playing the character of Krishna on screen, changed him as an individual, off scren too. "It sensitised me to understand various aspects of Krishna's persona, his beliefs and the virtues he stood for. But, it was the school of life, which took me on a roller coaster ride later, and taught me to apply Krishna's principles to my life events. It's the application of knowledge, which changes you as a human being. It is up to a man to choose to remain sane or go insane in times of distress," he explains.
Krishna's philosophies inspired Bharadwaj to the extent that when he was offered to re-enact the role for a Delhi group The Films and Theatre Society (FTS), he agreed "because the writer agreed to make the script relevant to today's times. Krishna is a timeless phenomenon. So, it is important to bring out the relevance of his philosophy in each era."
Today, when he performs in the Capital and his audience meets him backstage post performance, he feels elated: "I would be a hypocrite if say it doesn't affect me. I love it. Artistes thrive on appreciation of work. But my thoughts at such moments are of gratitude to Lord Krishna, Maa Bhagawati and my parents. I am always humbled by people's love and respect, and constantly remind myself of my social responsibility, which Krishna calls Loka Sangraha."
And, what's the relevance of Janmashtami in his life? "Janmashtami is the birth of every virtue that Krishna stood for — breaking the shackles of bondage, surviving in most adverse conditions, challenging the system if it is going wrong, establishing harmony in social order, justice, equality, uproot an obsolete and unfair political order to establish new ones wherein everyone has a voice, true meaning of submission to the Lord, Nishkaam Karma Yoga (dispassionate Karma), and the sense of duty with detachment. We must give birth to these virtues in our own heart and act in life proactively."
Follow @htshowbiz for more
Personalise your news feed. Follow trending topics