Koffee With Karan 6: Deepika Padukone says Ranveer Singh will be mama's boy as a husband, Alia reveals Ranbir Kapoor's nickname for her
Oct 22, 2018 01:20 PM IST
Alia Bhatt and Deepika Padukone graced the first episode of Karan Johar's talk show Koffee With Karan and shared much more than expected about their personal lives.
Host Karan Johar chose the best guests to open the sixth season of his hit celebrity talk show, Koffee With Karan. Actors Alia Bhatt and Deepika Padukone were the craziest pair he could have wished for and the episode was a blessing for anyone who wants to know more about their personal lives.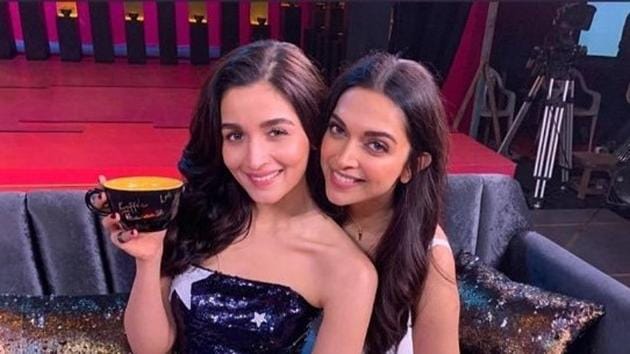 Karan began Sunday's premiere episode with a big round-up of all that happened in the film industry for the one year that the show was off air. He also casually brushed aside the one controversy from last year that the show will forever be known for--nepotism. Karan said that last year, the word nepotism was birthed on his show and that it now gives him 'nepospasm' on every time he hears it. What a way to dissolve the conversation eh?
After singing praises of Deepika and Alia, he talked about how fruitful the year has been for the two. Deepika's Padmaavat made Rs 300 crore at the box office while Alia's Raazi made Rs 120 crore. But Karan did ask Deepika if she was disappointed in the industry for not voicing their support for her when she was targeted by religious groups for the film.
Deepika said that a lot people showed support on a personal level but could not muster the courage to talk about it on a platform. So she cannot really say that there was no support from the film industry for their film.
Karan then brought up the 'elephant in the room', which is the awkwardness that comes from the fact that Alia is dating Deepika's ex, Ranbir Kapoor. Karan talked about the recent party at Ranbir's home which was attended by Deepika, her fiance Ranveer Singh, Alia, Karan and also Aamir Khan. Both Alia and Deepika agreed that there was no awkwardness in between them.
Deepika said that acceptance of one's past, present and future has a big part to play in bringing in a feeling of comfort with each other. "It only gets better. I couldn't have asked more. I think the relationship that we share today, what I value the most and I don't think it could be in a better place," she said about Ranbir.
Alia said there was no awkwardness simply because they are all happy in the their lives now. "I don't hold on to things. There's nothing to feel awkward about. If there's an awkward conversation, then, of course, that will spring up some awkwardness. There is nothing to feel bad about and we are all very happy, at peace and content," Alia said.
Deepika still acted coy about revealing her wedding date on the show, which we now know to be November 14 and 15. Alia and Karan tried their best, teased her a lot but she didn't give in. However, she did confirm that she has been dating Ranveer for six years for the first time.
Alia was more candid that ever before while talking about her relationship with Ranbir. She even told Deepika the nickname he has given her and left her roaring with laughter.
Karan also teased them about their Instagram PDA with their boyfriends and Deepika seemed quite proud of it. 'Isn't he looking hot though?," she asked Alia and Karan when they asked her about a rather steamy comment she had left on Ranveer's picture.
In a particular segment, Karan asked the two which one of them would be getting married first but Deepika refused to accept it was her. After being repeatedly called a liar for it, she finally agreed. Soon after the acceptance, Karan began planning a trip to Maldives with Alia, Ranbir, Deepika and Ranveer. "I want to see you four in a pool. Don't know why I said that," he said. Alia and Deepika decided next year will be a good time for it and let Karan plan it all.
Karan also let it slip how Ranbir and Deepika are in talks for a new project together and it was also revealed that Alia, Deepika and Katrina Kaif all attend the same gym. All three women have dated Ranbir.
In the rapid fire round, Alia chose Ranbir over spending time with her cats, said he has the most dreamy eyes and said she wants Deepika's body and airport look. Deepika said Ranveer will be a mama's boy as a husband, Fawad Khan has the most dreamy eyes and she wishes she could be a part of Student of the Year and Raazi. Alia ended up winning the Koffee Hamper.
In another quick game, Alia called up Sonakshi Sinha while Deepika straight up dialled Shah Rukh Khan. While Sonakshi could perform the task given to her, Shah Rukh was too baffled to understand what was happening. Alia ended up winning this round as well.
Follow @htshowbiz for more