China tells Nepal to maintain good ties with India
Hindustan Times, Kathmandu |
Anil Giri
Mar 27, 2017 09:13 PM IST
Many in Kathmandu believe that India played a role in ousting the pro-China government led by former premier KP Sharma Oli in August 2016.
Chinese President Xi Jinping suggested to visiting Prime Minister Pushpa Kamal Dahal "Prachanda" to maintain good relations between Nepal and India during a meeting at the Great Hall of the People in Beijing on Monday.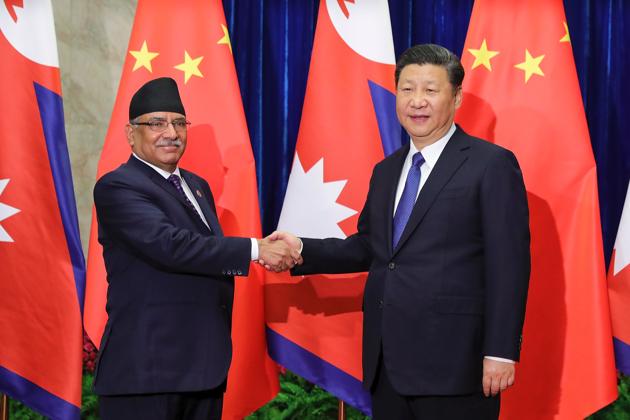 Prachanda held talks with Xi and other senior Chinese leaders on a wide range of issues, including Nepal's relations with China and India, extending a Chinese rail link to Nepal and beyond and opening up more trade routes with China.
After the delegation level talks between the two leaders, the Nepalese media quoted Prachanda as saying, "At the end of our conversation, the Chinese president told us that Nepal should maintain good relations with India."
However, this is not the first time Chinese leaders have called on Nepalese leaders to maintain good relations with India due to proximity, the open border and close cultural, religious and social ties.
It is widely believed in Kathmandu that India played a role in ousting the pro-China government led by former premier K P Sharma Oli in August last year and installing the Prachanda-led regime that is comparatively softer on New Delhi.
At the height of the economic blockade along the Nepal-India border and protests against Nepal's new Constitution in 2015, Oli visited Beijing and signed the first bilateral transit and transportation agreement that was reportedly aimed at ending an Indian monopoly on petroleum products and other essential goods.
This change of guard in Kathmandu will not affect ties between Kathmandu and Beijing, Xi reportedly told Pracahnda, according to media reports.
Apart from Prachanda seeking Chinese aid for several projects, Xi announced that China will provide 9 million RMB to assist Nepal's upcoming polls to local government bodies.
A statement issued after the meeting on Prachanda's official website said, "He had an open and candid conversation with the Chinese president on various issues pertaining to bilateral (relations). The meeting was very fruitful and productive..."
The website said Xi was positive on matters raised by the Nepalese side during the meeting.
This was the third meeting between Xi and Pracahnda. The Chinese leader was keen on Nepal's political stability, development and prosperity and wants to contribute to several infrastructure projects in Nepal.
Prachanda said he and the Nepalese people were waiting to see a Chinese train plying from Lhasa to Kathmandu and Lumbini, the birthplace of Buddha. Xi said he would take initiatives to link the Chinese rail network to Nepal and to develop railways in Nepal.
Xi also accepted Prachanda's invitation to visit Nepal.