Kim Jong-un drove cars when he was 3, composes world-class music. Don't believe it? You are probably right
Sep 05, 2017 06:18 PM IST
Little is known about North Korean leader Kim Jong-un. And most of what is known, experts on the subject allege, is beyond the realms of reality.
North Korean leader Kim Jong-un is under the spotlight again, with his country detonating what Pyongyang says was a hydrogen bomb and the US saying he is "begging for war".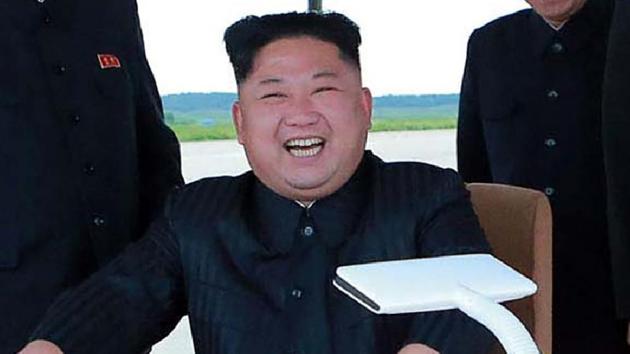 Russian President Vladimir Putin has warned of a global catastrophe unless a diplomatic solution is reached over North Korea.
Little is known about the 33-year-old leader who took over after his father, Kim Jong-il's, death in 2011. And most of what is known, experts on the subject allege, is beyond the realms of reality. Here are five myths South Korea says are pushed as part of propaganda floating around Kim Jong-un and his country:
He was driving by three, winning yacht races by 9
The North Korean regime insists Kim Jong-un could drive a car by the time he was three years old. His official biography says: "At the age of 9, Kim Jong-un raced the chief executive of a foreign yacht company who was visiting North Korea at the time." The book adds that he won the race.
Scaled North Korea's highest mountain
In 2015, the state media said Kim Jong-un scaled North Korea's highest mountain, arriving at the peak to tell troops the hike provided mental energy that was more powerful than nuclear weapons.
A photo showed a smiling and wind-swept Kim standing on a mountaintop covered with snow.
A talented artist and music composer
Schoolchildren in North Korea are taught that he is a talented artist and a world-class music composer, according to news reports.
Peace Village at the border with South Korea
North Korea has built a brightly painted village close to the border with South Korea that many say is fake and built with the purpose of attracting defectors from across the border. South Korean experts say the buildings have hollow shells and don't house anyone. They say the only people inhabiting the ghost town are maintenance workers, sweeping the streets and making sure the town looks like it is prosperous and peaceful.
North Korean leaders didn't need a toilet break... ever
In the official biography of Kim Jong-il, the author writes that the North Korean leaders were too perfect to need to urinate or defecate. "...Kim Il-sung and Kim Jong-il were perfect beings, un tarnished by base human function".
Kim Il-sung was the leader of North Korea after it was established in 1948.
A Guardian report from 2015, however, says Kim Jong-il's son, Kim Jong-un, travels with a mobile toilet built in a vehicle in his convoy when he travels.
"The restrooms are not only in Kim Jong-un's personal train but whatever small or midsize cars he is travelling with and even in special vehicles that are designed for mountainous terrain or snow," The Guardian quoted a source in South Pyongan province as saying.
With inputs from agencies