'Need more time to conduct in-depth probe': China on blocking move to list Masood Azhar as global terrorist
A foreign ministry spokesperson Lu Kang said, "China's stand is in line with the rules and procedures of the UN sanctions committee.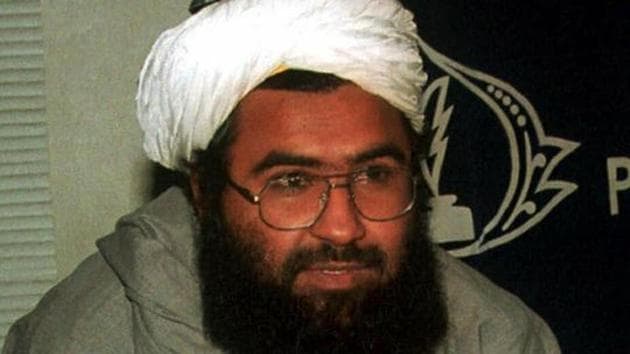 Updated on Apr 22, 2020 04:55 PM IST
China on Thursday said it put a technical hold on the fresh move to list Jaish-e-Mohammed (JeM) chief Masood Azhar as a global terrorist as it needed more time to "study" the matter but added that it was "sincere" about building better ties with India.
Earlier on Thursday, China blocked the latest international move to designate Azhar - whose group JeM claimed responsibility for the deadly Pulwama attack in February - as a global terrorist at the UNSC, allowing a major bilateral irritant with India to fester.
A statement issued by the external affairs ministry in New Delhi expressed "disappointment" at the UN's Islamic State and al-Qaeda Sanctions Committee being unable to come to a decision on the move to sanction Azhar "on account of a member placing the proposal on hold".
Watch: 'India and Indians are hurt': Ravi Shankar Prasad on China's veto on Masood Azhar
When asked about the reason for blocking the move initiated by the US, France and UK, foreign ministry spokesperson Lu Kang said China always carries out "thorough and in-depth" investigation of the applications to the UN sanctions committee.
Also read: Behind China's move to block Masood Azhar's listing, a strategic reason
"The UNSC 1267 committee has clear standards and procedures for designating terrorist organisations and individuals. China conducts through in-depth assessment of this application and we still need time. That is why put forward the technical hold," Lu said.
"This is in line with the rules of the committee and China sincerely hopes that relevant action taken by this committee will help relevant countries to engage in dialogue and consultation and prevent adding more complicated factors into regional peace and stability," he added.
"China will continue to adopt a constructive and responsible attitude and communicate and coordinate with all sides relevant to properly handle this issue," Lu said.
Also read: UN members warn of 'other actions' as China blocks bid to list Masood Azhar as global terrorist
When asked about the state of Sino-India ties, Lu said Prime Minister Narendra Modi and President Xi Jinping had met four times last year.
"President Xi and PM Modi met four times. Particularly, the Wuhan summit made great progress. China is full of sincerity and ready to work with India to build on the consensus of our leaders for greater progress in the bilateral relations," he said.
"As for the technical hold, our action is to make sure that China will have enough time to study the matter so that relevant sides will have enough time for discussions and consultations to find a lasting solution," Lu added.
"I said earlier that only a solution that is acceptable to all sides could fundamentally provide a chance of a lasting solution to the issue. China is ready to communicate and coordinate with all sides including India to properly handle this issue."
Close Story
Personalise your news feed. Follow trending topics