The BJP is oblivious to farmer distress
Modinomics has failed miserably to maintain the legacy of high agricultural growth rates handed over by the UPA. Achche din for farmers can hardly come with a demonising tax regime.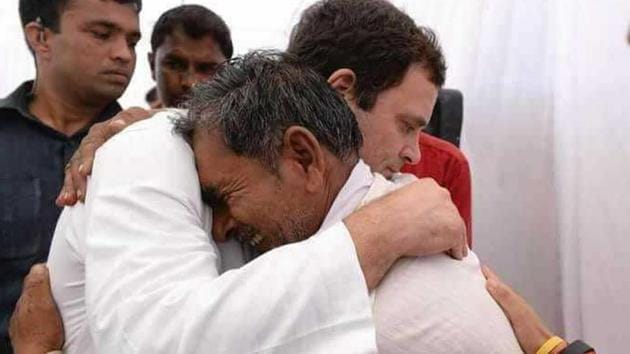 Published on Jun 13, 2018 12:33 PM IST
While the entire team of BJP spokespersons comes out all guns blazing after Rahul Gandhi's speech at Mandsaur, can they put their hands to their hearts and say that by excising RG from the equation, the huge farmers' discontent on the ground, manifested in disparate and unconnected states and diverse agricultural cultures, will die?
The BJP claims to work on the principle of Antyodaya – upliftment of the last man in the line. Deendayal Upadhyay has been the toast of innumerable government schemes, the magical incantation on every BJP worker's lip. But, facts and figure portray the worst betrayal of Upadhayay's dream.
Millions of farmers have organised nationwide protests during the first ten days of scorching June. The date commemorates black June last year, when farmers were shot at sight by the Madhya Pradesh police, allegedly on orders of the state government headed by a chief minister who swears by Upadhyay.
Modinomics has failed miserably to maintain the legacy of high agricultural growth rates handed over by the UPA. The trends reflect secular distress in the sector. The agriculture growth rate which was 5.6% in 2013-14, dipped to (-) 0.2% in fiscal 2014-15. By government standards, it grew remarkably to reach 0.7% in 2015-16. In four years of the NDA, it grew at an average of 1.9% as against 4.2% in ten years of the UPA.
Worse, the RBI reports reveal that rural wage growth dipped miserably from 38% in 2014 to the unimaginable 0% in 2018. This government thus maintains neutrality only qua neutral growth (zero percent) for rural India. The tragic and painful consequence is the rising suicide rate: 35 farmers commit suicide every 24 hours. Metaphorically, these are state sponsored murders.
Achche din for farmers can hardly come with a demonising tax regime. GST levies the heaviest taxes on agricultural tools and associated products since independence.12% is levied on tractors and agricultural implements, 18% on tyres and tubes, and 18% on pesticides and cold storages.
The government has resolutely refused to waive farm loans while the RBI figures show that loans of ₹2.41 Lakh crores were written off by public sector banks between 2014 and 2017, for those who can only be described as crony capitalists. When loan waivers were attempted, it evoked more titters than impact: in Uttar Pradesh, 11,700 farmers received waivers ranging from ₹1 to 500. How long can the finance minister blame past loans during the UPA as the cause of the Non-Performing Assests? The RBI categorically puts the gross NPA of public sector banks (in 2013-14) at ₹2.27 lakh crores. Under the NDA, they grew to 8.40 lakh crores by December 2017 – a fourfold increase in the NPAs. Ironically, the RBI data establishes that the farm sector performs better compared to the industries sector when it comes to repayment of loans. In fiscal year 2017, the agriculture sector defaulted on 6% of its total credit, while the industry sector defaulted on 20%.
Jumlas took over jokes when Modi promised farmers a doubling of their incomes by 2022. Meanwhile, the CAGR (rate of growth) of farmers' income plummeted by a mammoth 500% i.e., from 10.4% to 2.5%. Economists wrote learned articles proving the impossibility of achieving the target of doubling incomes, while some said that at current growth rates it may happen only by 2052. The Minimum Support Price of '50% above cost' was the cruelest joke: a written promise on page 44 of the BJP Manifesto 2014, in a sworn affidavit a in June 2014 in the apex court and revived as an election gimmick in the 2018 budget.
The benefits of the PM Fasal Bima Yojna were received by insurance companies, not farmers. Companies earned a profit of ₹14,828 crores but farmers received a meagre ₹5,650 crores. A food grain mafia seems to have arisen as the BJP reduced import duty on wheat from 25% to 0%, just when the wheat crop arrived in markets.
An approach based on the triple principles of intent, implementation and impact is the need of the hour. A structurally stagnating issue is the decreasing size of landholdings: the average farm size is at 1.15 hectare and since 1970-71 it has been declining. Small and marginal land holdings account for 72% of land holdings in India.
The way forward lies in investment in mitigation and adaptation strategies, minimising of on-farm greenhouse gas emissions, no-till farming, planting of cash crops and integrated crop-livestock forestry. There is an urgent need to create and connect a farm to home pro-smallholder value chain and to reduce crop destruction with a proper storage infrastructure. Post-harvest losses by poor handling, poorer infrastructure and crop vulnerabilities have to be tackled. The costs of farm inputs have significantly increased in the last few years, faster than farm produce prices.
Even the recent 120 farmer organisation protests in Delhi -- with the Bharatiya Kisan Sangh, the agricultural arm of the RSS, actively participating and protesting -- has come to nothing. We owe it to ourselves and to those who feed us, to be aware, to debate, to dissent and to ensure that our opinion is heard and displayed.
Abhishek Singhvi is member of parliament; national spokesperson, Congress; former chairman, Parliamentary Standing Committee & former Additional Solicitor General
The views are personal
Close Story
Personalise your news feed. Follow trending topics