BJP leader should explain what he means by eco-friendly Eid
Updated on Sep 26, 2016 07:41 PM IST
All festivals cause air and water pollution through the bursting of crackers and immersing icons in rivers that are already dying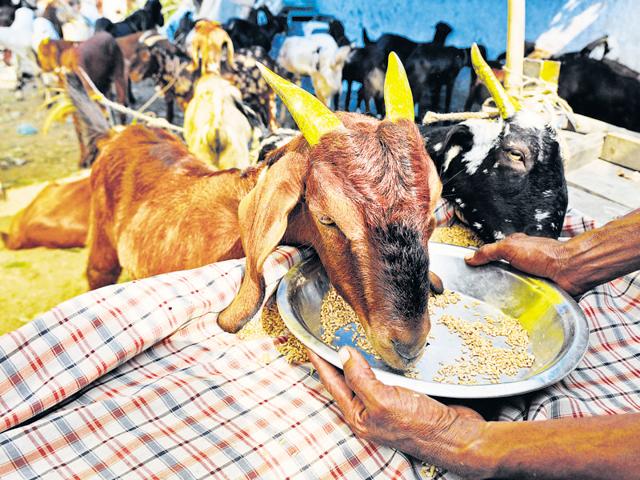 BJP national secretary Shrikant Sharma's advocacy of eco-friendly Eid-ul-Azha, just a day before the festival, is questionable. First the timing. If Mr Sharma is concerned about the environment, which, as a public figure he should be, he should have also questioned the ways in which many other festivals of various religions are celebrated. Instead of doing that, just picking on the festival of one religion could lead to allegations of being prejudiced, which Mr Sharma cannot be unaware of. Second, given the already volatile atmosphere the country is in now, venting such feelings is not healthy from the point of view of maintaining communal harmony.
Read: 2 killed as clashes break out in Kashmir after morning prayers for Eid
What Mr Sharma meant by eco-friendly Eid is not clear from his statement. Was he espousing the cause of vegetarianism and preventing animal sacrifice? There is a school of thought, to which a former environment minister of India belonged, that being a vegetarian is a good way to prevent environmental degradation. This could be scientific because it is widely known that there are hazards in the way animal parts are disposed of and there is enormous scope for water pollution and land degradation in the process. But the point is how preventing animal sacrifice or better ways of disposal of animal parts just on a particular day can serve the cause of the environment. It must be an ongoing process. Secondly, all other festivals such as Diwali and Dussehra cause air and water pollution through the bursting of crackers and immersing icons in rivers that are already dying. And some pujas in certain parts of the country involve animal sacrifice.
Read: This Rs 11 lakh buffalo 'Bahubali' is Eid's 1.5 tonne attraction in Ludhiana
One-line statements on important issues do not help much. If Sharma was talking about vegetarianism he should have been more forthright on the matter. And it would have made sense. If he meant better ways of celebrating festivals, he should mentioned all of them. If he was arguing in favour of animal rights, he should have spoken out. Just mentioning one, and on the eve of a holy occasion, can have adverse consequences.
Personalise your news feed. Follow trending topics