Andaz Apna Apna didn't get a fair chance: Aamir Khan
Mar 08, 2014 10:54 AM IST
Aamir Khan says the cult comedy Andaz Apna Apna did not get a fair chance as the film was not publicised well. In an interview, the actor talks about the film, why it became cult and more.
Way back in 1994 (on April 11), the two Khans — Salman and Aamir — came together for Rajkumar Santoshi's comedy, Andaz Apna Apna.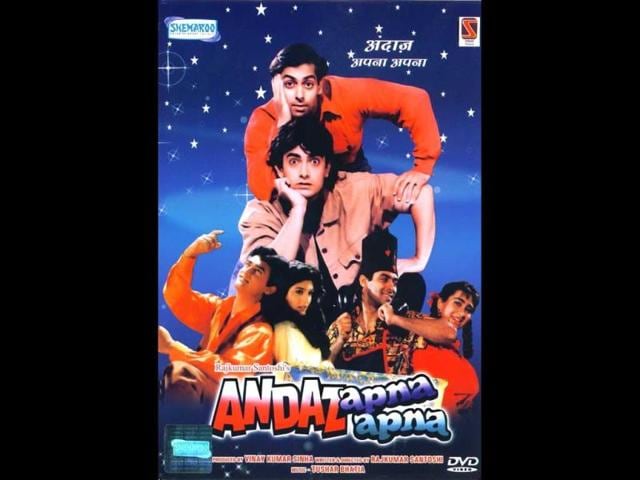 Unfortunately, back then, the film didn't perform very well at the box office. At the time, little did the makers know that the film would earn one of the largest cult followings Bollywood has ever witnessed.
With only a few weeks left for the film to turn 20 years old (in April), we talk to Aamir, or Amar, like the film's fans know him, about why the movie didn't fare well, and whether it would stand a better chance in theatres today.
Did you ever analyse why AAA didn't do well commercially?

Actually, I loved the film. I thought it was fantastic. When it didn't do well in theatres, I was like, '
Kya hua yaar?
What went wrong?' But one of the obvious things that went wrong was that no one knew when it released. It was that big a disaster. It was a washout (smiles).
Kisi ne dekhi hi nahi film
(no one watched it).
So, there was no publicity around it at the time?

The distributors weren't sure whether they were going to get the delivery of the film. In the market, the release date had been announced, but they weren't sure whether it would release. So the distributors didn't take the delivery of the prints. They were like, 'But what if we don't get it.' They felt if they put up the posters (and the film doesn't release), the public would kill them. So no one started the publicity. Finally, the delivery was done on Monday. On Tuesday, in some territories, the film was publicised for only three days.
Weren't people excited to see Salman and you together?

There were a lot of people waiting for the film. Not just today, our combination was strong even at that time. I was coming after Qayamat Se Qayamat Tak (1988) and Dil (1990), and Salman was coming after a bunch of successful films, including Maine Pyaar Kiya (1989). So it was a big star cast even for that time.
What made it a cult film?

I don't think it got a fair chance (back then). It's only later that people discovered it on TV and realised that it's very good. It became a cult film on home entertainment.
Do you think it would do well if it releases today?

Now everyone has seen it (smiles). I don't know whether they will come to the theatres to watch something they can watch for free on TV.