Nadaprabhu Kempegowda statue to be installed on Vidhana Soudha premises: K'taka CM
Published on Jun 28, 2022 07:09 PM IST
Karnataka CM Bommai said a new statue of Nadaprabhu Kempegowda will be erected at Bengaluru's Vidhana Soudha within one year.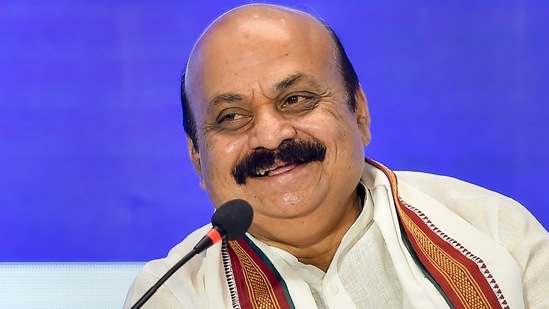 Karnataka chief minister Basavaraj Bommai announced at the 513th birth anniversary of Kempegowda, at the banquet hall of the Vidhana Soudha, that a statue of the architect of Bengaluru, Nadaprabhu Kempegowda, will be erected on the premises of the Vidhana Soudha within a year.
Accepting the request made at the event by seer Nanjavadhuta Swamiji, the chief minister said, "The Vidhana Soudha is located in the city of Bengaluru and was built by Kempegowda. So it is natural to desire that a statue should be erected on the premises of Vidhana Soudha. Our government will do it."
A 108-foot-tall bronze statue of the Nadaprabhu is currently in the works at Bengaluru's Kempegowda International Airport (KIA). The statue weighs 2.2 lakh kilograms and has a 4,000-kg sword.
Read: Kempegowda's bronze statue will soon be unveiled at Bengaluru airport: K'taka CM
Dr CN Ashwath Narayan, who is the vice-chairperson of the Nadaprabhu Kempegowda Heritage Area Development Authority, said the previous CM Yediyurappa played a crucial role in implementing the Kempegowda statue installation project at the airport.
"Kempapura in Magadi taluk, the birthplace of Kempegowda will be developed. Kempegowda Study Centre will be established in Bengaluru varsity. Bengaluru Habba will be celebrated in a grand manner as a three-day event and a coffee table book will be brought out in the honour of Kempegowda", he said.
The first award named after the builder of Bengaluru city, the Kempegowda International Award, was conferred on former CM SM Krishna, Infosys founder Narayana Murthy and badminton ace Prakash Padukone.
Read: SM Krishna, Narayana Murthy, Prakash Padukone selected for Kempegowda Award
SM Krishna, while receiving his award, thanked former prime minister Manmohan Singh for naming the Bengaluru airport after Kempegowda.
(With ANI Inputs)
Topics