Elevated road project will be completed by June 30, NHAI assures MP
Published on Jan 23, 2023 11:48 PM IST
Taking stock of the progress of various ongoing projects under NHAI, MP Arora said under-construction elevated road project on Ludhiana-Ferozepur highway has become a serious cause of traffic snarls and NHAI need to give topmost priority to complete the construction at the soonest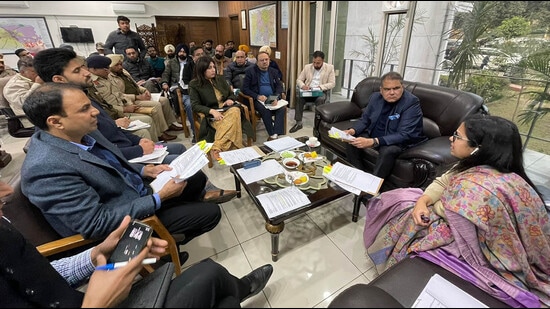 Senior National Highways Authority of India (NHAI) officials in Delhi have assured the competition of elevated road project by June 30 this year, said Rajya Sabha MP Sanjeev Arora in a meeting held on Monday.
The meeting was attended by senior officials from various government departments as well as NGOs.
Taking stock of the progress of various ongoing projects under NHAI, MP Arora said under-construction elevated road project on Ludhiana-Ferozepur highway has become a serious cause of traffic snarls and NHAI need to give topmost priority to complete the construction at the soonest.
Tenders of laying 66-KV underground cable near Aarti Chowk had already been floated and the work must be wrapped up before expected time to facilitate the commuters on the lifeline of the city, he added..
Arora said 90-percent work of ROB near Sherpur Chowk had already been completed and Tajpur flyover will be thrown open to the public in the first week of February.
The Rajya Sabha MP also asserted that road safety must be accorded the foremost priority and asked the officials to install proper traffic signage and remove all illegal cuts on the highways to save precious lives.
Further, he also appealed to the industrial houses to ensure their workers wear helmets and reflectors on their vehicles which will help to minimize road mishaps. He also asked the officials for speedy land acquisition on Delhi-Katra expressway and Ludhiana-Ropar four lane.
Deputy commissioner Surabhi Malik said the administration is firmly committed in ensuring safety and security of people besides facilitating them for smooth commuting on the roads.