Afghanistan set for historic inaugural Test against India
Afghanistan will embark on a new journey in their cricket history when they make their Test debut against India in the historic one-off Test in Bangalore on Thursday.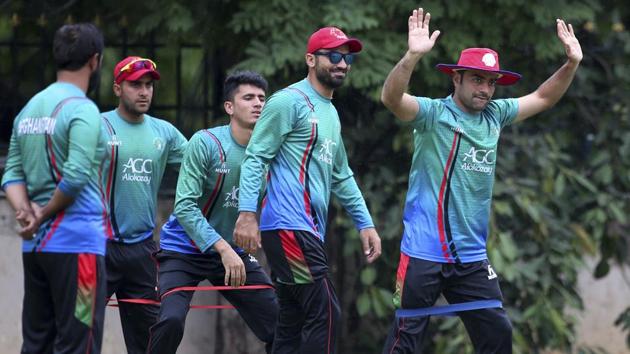 Updated on Jun 13, 2018 08:09 PM IST
When Afghanistan face India in their inaugural Test at the M Chinnaswamy Stadium on Thursday, it will be the fruition of a remarkable sporting journey for a nation torn by strife.
A spark lit in the bleak environs of refugee camps in Pakistan has in spinners Rashid Khan and Mujeeb ur Rahman in particular found the torch-bearers who have carried Afghanistan swiftly to a format that is still regarded as the pinnacle of cricket.
The match can be described as the experience of India versus Afghanistan's youthful exuberance. Regardless of how they fare, the newcomers were the least likely of the associates who were expected to make it to the Test ranks, unlike Ireland, given Test status with them, who were knocking on the doors of ICC for some time.
India, the No 1 Test side, will be without skipper Virat Kohli, who will undergo a fitness test on Friday. However, the significance of the game is not lost on anyone. India has helped Afghanistan make the country their 'home', extending all facilities to let their players grow away from the turmoil back home.
READ | Ravi Shastri wants Yo-Yo test bar to be raised ahead of ICC World Cup 2019
For Afghanistan, it will be a fresh test of fitness, endurance and patience, having made a mark in the limited-overs formats. If their game remains true to the spirit with which they have played white-ball cricket, they will be fearless, unrelenting and won't be overawed by the occasion.
India will see the match as a way to ease into the fresh season. Led by Ajinkya Rahane, the hosts have rested Bhuvneshwar Kumar and Jasprit Bumrah while keeper Wriddhiman Saha is injured and Mohammed Shami unfit. The priority will be preparing for a long England tour. The match, thus, provides a chance for KL Rahul, Dinesh Karthik, R Ashwin and Ishant Sharma to put forth their case forward.
India had optional practice on Wednesday with spinners and pacers staying away. Almost all India players – Cheteshwar Pujara had a quiet time with Yorkshire in the English County while M Vijay did not get an IPL game -- are coming out of IPL and Rahane said the focus will be their strengths.
READ | T20 to Test transition the big challenge for Afghanistan's spin trio
"Over the last three days, the focus has been on tuning our minds, especially because we're coming in after two months of IPL. Skill-wise it won't make a difference, but our attitude matters, if you have to make a quick switch in terms of mindset from T20 to Test cricket. We won't take them (Afghanistan) lightly," Rahane said.
In their brief cricketing history, Afghans have proved they are no pushovers. Mohammed Shahzad, Mohammed Nabi, Rashid and others, led by Asghar Stanikzai, will look to put up a fight and make the world accept they belong at the top table.
"Tomorrow is a big moment. After ODI and T20 status, we have achieved Test status. It's a big moment for all and we'll take it from there," Stanikzai said.
Close Story