Former India cricketers blast Arshdeep Singh for repeated no-ball offences: 'He's wasting energy there'
Jan 28, 2023 01:11 PM IST
Arshdeep Singh bowled a no ball in the final over of the New Zealand innings, that was followed by three successive sixes and a four.
Team India endured a 21-run loss in the first ODI of the three-match series against New Zealand on Friday. After New Zealand put a strong score of 176/6 in 20 overs, India endured a top-order collapse and even as Suryakumar Yadav (49) and Washington Sundar (50) attempted to revive the Indian innings with quickfire knock, the hosts eventually fell short in Ranchi. Following the game, India's left-arm pacer Arshdeep Singh faced significant flak for his expensive last over, as he conceded 27 runs.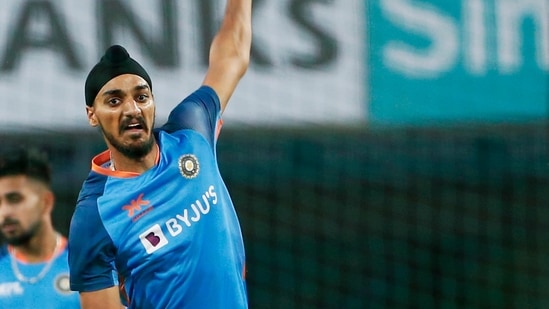 Arshdeep's worries with no-ball don't seem to end anytime soon, as he began the over by overstepping the line. This followed three successive sixes and a four, as the youngster bowled the most expensive final over by an Indian in T20Is.
Also read: Watch: Hardik Pandya shellshocked after Arshdeep Singh bowls no-ball, concedes hat-trick of sixes in wild 27-run over
Former India batting coach Sanjay Bangar wasn't too impressed with Arshdeep; during the 1st T20I against Sri Lanka earlier this month, the left-arm pacer had bowled three no-balls in an over, and four throughout the innings.
"Arshdeep wasn't much effective today. He has been known for those wide yorkers that trouble the batters but today, he bowled mostly in the slot. I think he needs to think about his bowling a bit and make decisions wisely. It's a journey. You may have a good start but there will be games where your skillsets will be tested. It depends upon you how much you believe in yourself and work on the basics. If he works on these factors, he might come out as a better batter," Bangar said in a discussion on Star Sports.
Former India star Mohammad Kaif, who was also a part of the panel, said that Arshdeep might need to consider shortening his run-up to rectify his no-ball errors.
"Arshdeep has a longer run-up which itself means he might face stepping issues. He's also wasting energy there. So, the main reason behind those over-stepped no-balls is his long run-up. And as he changes side too much, sometimes round the wicket, sometimes over. So, he needs to work on the basics and stay a bit relaxed. He is a good bowler but didn't have a great day," Kaif said.
Agreeing with Kaif, Bangar reiterated, "Like Kaif said, his run-up is longer than required. A bowler needs to figure that out. I you are a progressing fast-bowler and don't have much power in the body, then run from a longer distance to create momentum."