KKR vs DC, IPL 2020 Highlights: Chakravarthy dazzles with five-for as Kolkata Knight Riders pummel Delhi Capitals by 59 runs
IPL 2020 Live Score, Kolkata Knight Riders (KKR) vs Delhi Capitals (DC): Spinner Varun Chakravarthy picked up his maiden five wicket haul to derail Delhi Capitals' massive chase of 195 and help Kolkata Knight Riders to a 59-run win. Pat Cummins finished with 3/17 as DC, chasing 195 to win, were kept to 135/9. Earlier, after being reduced to 42/3, Sunil Narine and Nitish Rana came together for a 119-run partnership to help Kolkata Knight Riders stage a stunning comeback. Both batsmen scored half-centuries and along with Eoin Morgan's 17 off nine, gave KKR a formidable total of 194/6. Earlier, Kagiso Rabada and Anrich Nortje of Delhi Capitals combined to remove Shubman Gill, Rahul Tripathi and Dinesh Karthik early in the innings. DC won the toss and opted to bowl against KKR In Match 42 of the IPL 2020. For DC, Ajinkya Rahane replaced Prithvi Shaw while Sunil Narine was declared fit for KKR.Follow live updates of IPL 2020, KKR vs DC: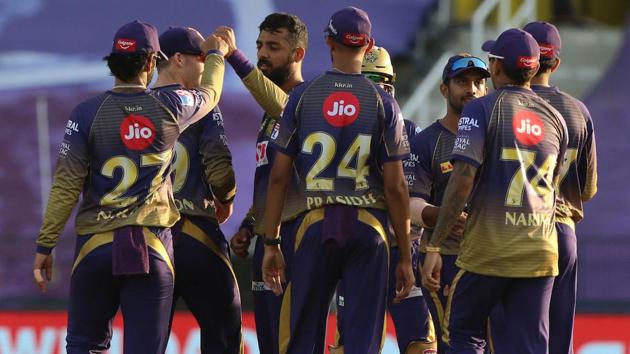 Updated on Oct 24, 2020 07:33 PM IST
Hindustan Times, New Delhi |
hindustantimes.com
19:08 hrs IST
KKR win by 59 runs. Delhi Capitals finish on 135/9
That's the match. KKR are truly and well alive in the hunt for the playoffs. After Narine and Rana's half-centuries lifted KKR to 194/6 from a concerning 42/3, it was over for Chakravarthy and Cummins to wrap things up. Two more points for KKR take them to 12, while DC remain second with 14 points.
19:04 hrs IST
KKR closing in as Cummins gets a third wicket
Rabada falls, DC lose their 8th wicket for 132. Cummins gets a third wicket. KKR closing in on a big win. They so needed this after their emphatic loss to RCB. They're pretty much alive in this IPL and an improved NRR gives them a chance to qualify for the playoffs.
19:00 hrs IST
A Summary of DC's inning till 15 overs
Chasing a target of 195 runs in today's IPL match, Delhi Capitals's score at the end of 15 overs was 110 runs for the loss of 5 wickets. Read more...
18:58 hrs IST
IPL 2020 Live Score: Clean strike from Rabada
Gets down on one knee and drills the ball down the ground for four. But it's all too late. The capitals boat has been rocked by a storm named Chakravarthy, who finishes his spell reading 5/20. Great, great stuff from the spinner.
18:55 hrs IST
A comeback story for the ages for Chakravarthy
He was deemed as the mystery spinner and went for big bucks as IPL 2020 auction, but his campaign was cut short after playing just one match before getting injured.
18:50 hrs IST
OUT! Five for Chakravarthy
It's a five wicket haul for Varun Chakravarthy, who sends back Axar Patel to leave DC tottering at 112/7. And he is yet to bowl his final over.
18:46 hrs IST
OUT! Chakravarthy strikes again
Marcus Stoinis departs after failing to read a wrong one. Chakravarthy picks up his fourth wicket as DC slip to 110/6
18:42 hrs IST
SIX! Axar Patel not throwing in the towel just yet
He's twice finished matches for DC this season and Axar Patel is batting hoping he can pull off a miracle here. Drags the ball from outside off and connects with a maximum. 15 overs gone, DC 110/5. 85 needed off 30. Not over yet.
18:39 hrs IST
Hat-trick ball coming up
And the batsman plays it down. Right then, with the asking rate over 16, DC have two batsmen out in the middle who are yet to face a ball.
18:36 hrs IST
GONE! And now Iyer falls
The wicket KKR wanted the most. Shreyas Iyer tried to go after Chakravarthy but doesn't get the timing right and perishes in the deep. Three wickets in three overs and DC are in all sorts of trouble.
18:34 IST
OUT! Hetmyer goes
Chakravarthy gets a wicket as the big-hitting Hetmyer perishes for 10. Capitals lose a fourth wicket.
18:30 hrs IST
SIX! Hetmyer goes big
13 off the over, six of which came off the last ball of Sunil Narine's third over. DC 94/3, still to bring up the 100. But here's the number that matters the most. 14.63, which is what the asking rate stands at the moment.
18:24 hrs IST
OUT! Pant falls to Chakravarthy
A wicket off the second ball for Varun Chakravarthy, who gets the big wicket of Rishabh Pant. He tries to go big with a slog sleep but top edges the ball to Gill in the deep. DC 76/3, need another 114 to win off 48 balls.
18:20 hrs IST
Iyer switches gears
Right then, it's time to get a move on and Iyer realises it. The DC skipper hit back to back boundaries off Lockie Ferguson to make it 12 off the over. 11 gone and DC are 77/2.
18:16 hrs IST
Hit with the bat, now doing it with the ball
After scoring 64 with the bat, Narine is back to creating magic with the ball. Economic as ever, Narine bowls another quiet over, allowing Iyer and Pant to score only 6 off it. DC 64 for 2, and we're half-way through the innings.
18:12 hrs IST
IPL 2020, KKR vs DC Live Score: Strategic time out
Pant eyes the cow corner and helps himself to another boundary. However, Ferguson pulls things back to keep the runs given away to 7. DC 58/2 in 9 overs and with Iyer and Pant in the 20s, one of them surely has to take off.
18:06 hrs IST
Narine in the attack
... and he starts off with a tidy over. Seven off it as Capitals reach 51/2 after 8. The required rate has jumped to over 12. They are ahead of where KKR were at this moment but the pressure of a steep asking rate is what matters in a chase as big as this.
18:02 hrs IST
FOUR! Pant cracks Ferguson square of the wicket
End of Powerplay: After 6 overs, Delhi Capitals reached 36/2. Lockie Ferguson enters the attack and immediately gets taken for a boundary from Pant.
18:00 hrs IST
DC innings: First five overs summary
Golden duck for Rahane, dream start for Cummins. Here's all that transpired in the first five overs of the DC innings.
17:58 hrs IST
In case you missed it...
#IPL2020 #KKRvDC | Nitish Rana wins hearts with emotional gesture after sensational fiftyhttps://t.co/8P4V6wlkS3

— HT Sports (@HTSportsNews) October 24, 2020
17: 56 hrs IST
IPL 2020 Live Score: 12 off the over!
An expensive and long over from Prasidh Krishna comes to an end. Capitals reach 33/2 after 5 overs. KKR bowlers have done a fine job with their bowling.
17:52 hrs IST
Back-to-back No-Balls from Prasidh
The fast bowler oversteps twice but fortunately for him, gets away on both free-hits. The first free hit hits Pant on the helmet as the ball scoops in the air. The next one, Iyer connects but the catch is taken at deep midwicket. What more, he delivers a wide.
17:50 hrs IST
SIX! Pant doing what he does best
That unorthodox Rishabh Pant batting is for display. Just moves a little to his left and plays the scoop shot, helping the ball to clear the fine leg boundary. Free Hit coming up as Prasidh oversteps.
17:48 hrs IST
IPL 2020 Live Score, KKR vs DC: Back-to-back boundaries for the DC captain
Shreyas Iyer cracks consecutive boundaries to get his Capitals innings a move on. Nagarkoti missing his line just by a little and Iyer is too good to miss pouncing on them, creaming both fours through the leg side.
17:46 hrs IST
Kamlesh Nagarkoti has the ball
He has replaced Kuldeep Yadav in this XI and would be eager to make a mark here. In the six matches before this, he's picked up four wickets.
17:42 hrs IST
IPL 2020 Live Score, KKR vs DC: Rishabh Pant the new batsman
A bit earlier than he'd have wanted to but Rishabh Pant has a job to do. The left-handed batsman has no shortage of talent but if he can rise to the occasion today, it will do his confidence a world of good.
17:40 hrs IST
GONE! Cummins gets Dhawan
Round the wicket, fast and fiery and Cummins hits timber. Dhawan plays down the wrong line and this is a big blow for DC and an equally big wicket to get for KKR. DC 13/2 in 2.3 overs
17:36 hrs IST
IPL 2020 Live Score: Shikhar Dhawan underway
After three singles off the first five balls, Dhawan gives himself room to slap the ball through the off side over covers. First boundary for him. After two overs, Capitals are 12/1.
17:32 hrs IST
FOUR! Iyer off the mark.
Stylish on drive from the Delhi Capitals captain to get off the mark first ball with a boundary. Contrasting first balls for Iyer and Rahane. An eventful start none the less. DC 4/1 after 1
17:28 hrs IST
OUT! First-ball duck for Rahane
WHOA! Talk about the perfect start. A wicket off the first ball for KKR as Pat Cummins traps Ajinkya Rahane out LBW. It's so plumb Rahane doesn't even review it. DC 0/1 and rocked early. Cummins, what a start.
17:24 hrs IST
KKR's final five overs of the innings
KKR finish on a high. But how did the final five overs pan out. Check out here
17:20 hrs IST
Right then! Can DC chase this down
...is the big question. If they do, it will be the highest successful chase of IPL 2020. With Dhawan in the form he is, no question as to why Delhi can't pull it off. But with a near 200-run target, you never know.
17:17 hrs IST
Here's what Narine had to say about his incredible knock!
"It was a part of the plan, whatever the situation was. I back myself to play spin, but we have the momentum, so hopefully we take it into the field get some early wickets. We were looking for 160, but 194 is a good total. It's a good batting track as well. I think there's a little more (purchase) for the seamers. We need to execute the wide yorkers well. It's been a while, so I'm happy to be back."
17:14 hrs IST
KKR finish on 194/6 (Rana 81, Narine 64)
Morgan perishes off the last ball but he will be happy with what KKR have put up on board. 194. Who would have thought of such a total in the 8th over when KKR had slipped to 42/3.
17:11 hrs IST
KKR vs DC Live Score, IPL 2020: Splendid for Rana
13th boundary of the innings for Nitish Rana as he creams a boundary through the off-side. He is out the next ball but crosses over to give Morgan strike. Out for 81. If KKR reaches the playoffs, they will remember this knock from him and Narine.
17:08 hrs IST
Last over coming up. Can KKR get to 200?
Stoinis tasked with the responsibility of bowling the final over. Starts off well with just two singles off the first two balls. Inside edge off the next ball which goes for a four. 190 up for KKR, Rana 77 not out!
17:06 hrs IST
KKR vs DC Live Score, IPL 2020: BOOM! Six from Morgan
A full toss from Rabada and Eoin Morgan takes full toll. The ball hit him high on the bat and even though it initially looked like the fielder might have a chance, he only saw it sail over his head. It was a rather comfortable six in the end - 84 metre-long. And what more, he delicately guides the next ball for a four. KKR 184/4. Fancy 200, anyone?
17:03 hrs IST
KKR and Rana will remember this...
Sent in to open the innings, @NitishRana_27 responds with a fine 5️⃣0️⃣ and dedicates it to his father in law, who passed away yesterday.#Dream11IPL pic.twitter.com/1LUINkpqpe

— IndianPremierLeague (@IPL) October 24, 2020
17:00 hrs IST
FOUR! Morgan off the blocks
Morgan takes the aerial route over mid off and gets his first boundary. What seemed to turn out a decent over was spoiled with Rana pulling the ball past square leg, where he just beat the fielder to get another boundary. KKR 170/4. Two overs left
16:58 hrs IST
KKR vs DC Live Score: Rana keeps at it
Another four to end the over. With fine leg in, Nitish Rana hits the ball behind to collect his 10th boundary of the innings. KKR 161/4 in 17 overs. Surely 190 looks a definite possibility which will be a pretty amazing total on this surface.
16:56 hrs IST
OUT! Narine holes out in the deep
Gone! Finally, DC get their breakthrough. Narine is out caught at deep square leg to Ajinkya Rahane. End of a fine, fine innings, one that promises to have rejuvenated KKR, who are 157/4 in 16.4 overs.
16:54 hrs IST
FOUR! The boundaries keep flowing
Rabada back. Rana says sure, 'I'll take you on and does exactly that. Gives himself room first ball and edges the ball behind for a four.
16:50 hrs IST
Welcome back, Sunil Narine
If this is the way Narine expresses himself after being reported for an illegal bowling action, how KKR wish this would have arrived earlier. What carnage from KKR since the third wicket fell down at 42 in the eighth over. That seems ages ago.
16:46 hrs IST
IPL 2020 Live: KKR set for a big total
16 overs gone and the score has already moved to 151/3/ What a turnaround it has been ever since Narine came to bat. The two have added 109 unbeaten runs for the fourth wicket off just 52 balls. KKR are in the match. Shreyas Iyer and Capitals are still in shock as to what they've run in to.
16:42 hrs IST
FIFTY for Sunil Narine
Stand up and applaud this knock from Sunil Narine. After Rana took two fours and six off the previous over from Stoinis, Narine has tonked Ashwin for a four and six to bring up one of IPL's most entertaining half-centuries. It took him just 24 balls to get there. KKR 142/3 in 15 overs
16:38 hrs IST
KKR vs DC Live Score: SMOKED!
A huge six from Narine to start the over, follows it up with four through covers. And the fours and sixes keep coming. This has got to be one of IPL's greatest comebacks by a team in an innings. Narine approaching a fifty of his own.
16:34 hrs IST
Fifty for Nitish Rana
He gets there off 35 balls as he finishes an otherwise over with a boundary. KKR 113/3 after 13 overs and set for a good total.
16:32 hrs IST
This partnership: 61 off 28 balls
It's almost as if KKR are playing a whole new innings in the second-half. This has been an amazing partnership when the chips were down for KKR. And Narine, what a valuable player he's proved to be for KKR and he's finally coming to the fire this season. Not with the ball, but bat.
16:28 hrs IST
IPL 2020, KKR vs DC Live Score: 100 up for KKR, as is the 50-partnership
Wow! What a counter-attacking partnership this has been between Narine and Rana. And they aren't stopping here. Rana begins the over with a reverse sweep for four, followed by Narine hitting another six off Ashwin. Rana spoils Ashwin's figures even further with a second boundary in the over. KKR 103/2.
16:24 hrs IST
Now Rana gets a move on
Seeing Sunil Narine not shying away from playing shots, Nitish Rana has found his groove as he starts the over from Marcus Stoinis with a couple of boundaries. 35 runs have come off the last 13 balls. The move to send Narine ahead of Morgan seems to have worked for KKR momentarily.
16:22 hrs IST
18 off the over, KKR 75/3
From almost a situation of a boundary crunch, suddenly, there's been a flurry of boundaries. 18 off Deshpande's third over as Rana helps himself to a boundary of a swivel, followed by Narine capping off the over with his third four.
16:20 hrs IST
IPL 2020 Live Score: Deshpande back, Narine on fire
Well, well, Sunil Narine. Can this be the innings with the bat KKR have wanted him to? Slaps the first ball - short and wide - for a boundary. Almost punished it. Is this the spark KKR needed to get a move on
16:17 hrs IST
Check this ripper from Nortje to Tripathi
WATCH - Nortje's cannon ball to Tripathi

Anrich Nortje was on fire. After picking Gill early, the pacer bowled the perfect yorker to castle Rahul Tripathi. Top bowling this from Nortje.

📹📹https://t.co/OB659U0ID4 #Dream11IPL

— IndianPremierLeague (@IPL) October 24, 2020
16:16 hrs IST
How overs five to 10 panned out
KKR's top three dismissed cheaply in another slow start. Find out what happened between overs five to 10 of the KKR innings here
16:14 hrs IST
KKR vs DC Live Score, IPL 2020: Narine takes Ashwin on
Alright then! Maybe it's not too bad a decision. Narine wastes no time and tries to get a move on at the expense of Ashwin. He smacks a six over long off and follows it with a boundary off an outside edge. 13 came off Ashwin's first over. KKR 57/3 and with that, we have the strategic time out.
16:12 hrs IST
Eight gone, KKR 44/3
KKR have struggled to score runs, no doubt about it. And here's a puzzle. For the second time this season, KKR have sent Sunil Narine ahead of Eoin Morgan in the batting order. Well, this sure will ignite some debate.
16:08 hrs IST
OUT! Rabada gets Karthik
He goes for thee and what a poor shot to get out too. Karthik tries to flick a ball on off stump and gets an outside edge that lands safely in Rishabh Pant's gloves. KKR three down for 42 and in trouble.
16:05 hrs IST
Another quiet over. KKR 41/2 after seven
Just five off Stoinis' first over, including a wide. DC tightening the lid on KKR with some tidy bowling. Boundaries refusing to come for KKR. Karthik and Rana in for a stiff challenge.
16:01 hrs IST
Now it's Stoinis who's in the attack
DC not allowing KKR batsmen to settle down with frequent bowling changes. Marcus Stoinis is the new man in the attack and he starts off with a little off-cutter rolling his fingers on the ball.
15:58 hrs IST
TIMBER! Nortje castles Tripathi
What a great sight for any fast bowler. Nortje keeps it straight and knocks over Tripathi for another low score. Full ball and Tripathi is simply beaten for pace. KKR 35/2 in 5.4 overs.
15:56 hrs IST
KKR vs DC Live Score: First 4 for Tripathi
He gives himself room and even thought Tripathi didn't get hold of the shot as well as he'd have liked to, gets a much-needed boundary. Slower ball from Nortje, picked well by Tripathi. KKR getting a move on after a couple of really tight overs.
15:54 hrs IST
Short ball from Axar and Rana pounces on it
The fourth boundary for KKR as Rana pummels a short ball from Axar. The left-arm spinner drops it short and any top order batsman is too good to put it away. Five gone, KKR 29/1
15:52 hrs IST
Spin introduced. Axar Patel handed the ball
Tripathi once again goes inside edge off the first ball bowled in the match by Axar. It will be interesting to see whether there will be spin on this surface that has a bit more grass in it that one would expect from a UAE surface.
15:50 hrs IST
Tripathi off the mark
Takes the aerial route to Rabada but doesn't have enough legs for the ball to reach the boundary. Comes back for a two and he's off the mark. Does exactly the same next ball, this time on the off side and the result is same. Six off the over as KKR reach 22/1 after 4 overs.
15:47 hrs IST
IPL 2020 Live Score: Bowling change for DC
Just one over for Anrich Nortje become DC replace him with Kagiro Rabada. The South Africa quick has been at the top of his game this season being the leading wicket-taker with 21 scalps.
15:44 hrs IST
FOUR! First boundary for Rana
He plays out the pull shot. Not in control of it but gets enough to help the ball for a four.
15:41 hrs IST
Rahul Tripathi comes at No.3
The newest batting position for Tripathi. He's batted at No. 7, 6 and opened the innings so far for KKR this IPL. As Harsha Bhogle pointed out, No. 3 was the chit he picked out today.
15:38 hrs IST
OUT! Nortje removes Gill
Wow! Early breakthrough for the Capitals as Gill slaps a wide ball straight to Axar Patel at point. He started well but couldn't keep that one down. Right then, Nortje with another early wicket for DC.
15:36 hrs IST
In comes Nortje
Delhi Capitals have given the new ball to the man holding the record for the fastest delivery bowled. Anrich Nortje comes steaming in and beats Rana outside off first ball.
15:34 hrs IST
Another FOUR
This one on the leg side. Fuller ball from Deshpande and Gill simply leans into the on drive for his second boundary in the first over. KKR start well, reach 8/0 after the first over.
15:32 hrs IST
IPL 2020 Live Score, KKR vs DC: FOUR! Shubman Gill is away
Second ball of the innings and Shubman Gill cracks a boundary through the off-side. Slightly short of length and the batsman times it so well and pierces the gab between the fielders.
15:30 hrs IST
KKR open with Gill and Rana, Deshpande to start for DC
A new opening combination at the top for KKR. It's Nitish Rana, who is opening the batting along with Shubman Gill. Rana has been woefully out of form and perhaps KKR believe promoting him may solve his and the team's worries.
15:28 hrs IST
Umpires Chris Gaffney and Paschim walk out
In the news last week for his Rockstar hairdo, Paschim Pathak walks out to officiate along with Chris Gaffney.
15:25 hrs IST
What will a win do her for KKR?
A win will obviously keep their hunt for a playoff berth alive, but their big concern is the net run rate, which took a massive hit following the RCB game. KKR need to bring their A-game to ensure they win matches comprehensively to give themselves a strong chance.
15:22 hrs IST
IPL 2020 Live Updates: KKR will pin a majority of their hopes on this man
It's when you least expect it that our Mamba King strikes! 🐍

Watch out for those venomous deliveries from @SunilPNarine74#GalaxyOfTheKnights #KKRHaiTaiyaar #Dream11IPL#KKRvDC pic.twitter.com/nxyJ2Xc4P9

— KolkataKnightRiders (@KKRiders) October 24, 2020
15:18 hrs IST
KKR's Playing XI
Shubman Gill, Sunil Narine, Nitish Rana, Rahul Tripathi, Eoin Morgan(c), Dinesh Karthik(w), Pat Cummins, Lockie Ferguson, Kamlesh Nagarkoti, Prasidh Krishna, Varun Chakravarthy
15:15 hrs IST
DC's Playing XI
Shikhar Dhawan, Ajinkya Rahane, Shreyas Iyer(c), Rishabh Pant(w), Marcus Stoinis, Shimron Hetmyer, Axar Patel, Ravichandran Ashwin, Kagiso Rabada, Tushar Deshpande, Anrich Nortje
15:13 hrs IST
Morgan hopes for a better show
He says: "We had good practice for a couple of days, just that we need to re-focus. We haven't played our best cricket, hopefully we do that today."
15:09 hrs IST
Captain's Corner
Shreyas Iyer: There's bit of grass on the wicket. It will help our seamers at the start. We are not here to survive, but we're here to express ourselves, so our mindset will be the same. We will have the same approach. Every player has been Man of the match on some occasion and it's good to see the camaraderie within the team.
15:05 hrs IST
KKR XI: Narine, Nagarkoti in
Sunil Narine has recovered to reclaim his place in the XI and out goes Kuldeep Yadav. In the other change, fast bowler Kamlesh Nagarkoti comes in place of Tom Banton.
15:01 hrs IST
IPL 2020 Live Score, KKR vs DC: TOSS - Delhi Capitals bowl, Shaw dropped
And here is the big news. As we expected, there has been a change at the top of the order. Prithvi Shaw has been dropped and Ajinkya Rahane takes his place.
14:58 hrs IST
Short leg-side boundary
The boundary square of the wicket is 74 metres, but the batsmen will fancy the other side as it's only 62 metres long. Also, there's some grass on the surface, says Ian Bishop.
14:52 hrs IST
IPL 2020 Live Score, KKR vs DC: Look who's gearing up
The @DelhiCapitals looking all set for their game against #KKR.#Dream11IPL pic.twitter.com/nwh8doxx3g

— IndianPremierLeague (@IPL) October 24, 2020
14:46 hrs IST
The Gill vs Stoinis battle
There may not be too much in common between Shubman Gill and Marcus Stoinis, except the fact that both are fine hitters of the ball. Stoinis is certainly more renowned a hitter between the two, but Gill was quite the revelation earlier in the tournament. He's been getting starts but guilty of throwing them away. KKR need him to fire now more than ever.
14:39 hrs IST
20 minutes remain for the toss
Another win toss bat first game? Considering the slowing nature of the surfaces, that seems to be the way forward.
14:32 hrs IST
IPL 2020 Live Score: The Capitals are soaring, and why shouldn't they?
Waise toh we know you aren't going to miss our pulsating clash with #KKR, but here are 5️⃣ reasons to psyche you up before the game anyway 💙#KKRvDC #Dream11IPL #YehHaiNayiDilli pic.twitter.com/3S8CngwP4L

— Delhi Capitals (Tweeting from 🇦🇪) (@DelhiCapitals) October 24, 2020
14:25 hrs IST
Here's what DC's Playing XI may look like
1 Ajinkya Rahane, 2 Shikhar Dhawan, 3 Shreyas Iyer (Captain), 4 Rishabh Pant (Wicketkeeper), 5 Marcus Stoinis, 6 Shimron Hetmyer, 7 Axar Patel, 8 R Ashwin, 9 Kagiso Rabada, 10 Anrich Nortje, 11 Tushar Deshpande
14:18 hrs IST
What can KKR's XI look like?
Russell and Narine are obviously the two names into consideration, but what about the rest of the team. Nitish Rana's last five scores read 9, 2, 9, 5, 29. That's 54 runs in five innings. Can Rinku Singh, an attacking batsman be a replacement for him? Besides, will KKR persist with Kuldeep, or play an extra pacer, perhaps Sandeep Warrier? Here is a look at out Probable XI for KKR.
14:11 hrs IST
IPL 2020, KKR vs DC Live Score: Some interesting nuggets for today's match
- Shikhar Dhawan needs 18 runs to complete 700 runs vs KKR.
- Andre Russell, provided he plays, will reach 1500 runs in IPL if he can score 8 runs today.
- Rishabh Pant is 74 runs away from completing 2000 IPL runs.
14:04 hrs IST
Will DC drop Shaw for Rahane?
After scoring 179 runs in the first five matches, Shaw has struggled to get going, with just 30 runs in the previous five games, including two ducks. With the playoffs approaching it may not be a bad idea to give Shaw some time to clear his head, especially when they have an experienced campaigner in Ajinkya Rahane up their ranks. Bulk of Rahane's success in IPL has come while opening the innings and although with scores of 15, 2 and 8 may not be encouraging signs, Rahane the opener can always be tried out. What say, Capitals?
13:57 hrs IST
KKR face the Russell, Narine question
The absence of Sunil Narine and Andre Russell was felt big time in KKR's match against RCB. While Russell was out with an injured knee, Narine complained of a niggle and was kept out of the XI. You have to believe that if Narine is even 80 percent fit, KKR will play him in today's match. Although, no official news has come out yet regarding the fitness of the two players.
13:50 hrs IST
Pat Cummins feeling the heat!
The most expensive foreign buy in the history if IPL, Australia's Pat Cummins has been one of the biggest disappointments of the season. Cummins has picked up just three wickets at an average of 98.67 and has gone wicketless in 7 out of 10 matches in IPL 2020, a season in which fast bowlers have tasted success. Ask Kagiso Rabada, Jasprit Bumrah, Mohammed Shami or Trent Boult.
13:43 hrs IST
IPL 2020 Live Score, KKR vs DC: KKR's fast bowling woes
KKR's fast bowlers have struggled in IPL 2020, they have picked up 28 wickets, the least by any team's fast bowlers. Overall KKR's fast bowlers have an economy of 8.73, only 2 teams have a worse economy rate in IPL 2020.
13:36 hrs IST
Kuldeep Yadav on target!
Hitting the right n̶o̶t̶e̶ stump 👌💯@imkuldeep18 is in good touch ahead of #KKRvDC!#KKRHaiTaiyaar #Dream11IPL pic.twitter.com/cc1WXqPG3j

— KolkataKnightRiders (@KKRiders) October 24, 2020
13:29 hrs IST
Happy Birthday, Wriddhiman Saha. Will he get a game later on today?
Wishing you a very happy birthday Wriddhi Da. God bless you with good health and happiness always. @Wriddhipops

— Virat Kohli (@imVkohli) October 24, 2020
13:22 hrs IST
KKR vs DC Live Score: Shikhar Dhawan can't stop, won't stop
At the beginning of the tournament, we bet that not many would have put their money on Shikhar Dhawan if they were asked to name the top five batsmen they're eager to see perform in IPL 2020. How wrong have they all been? Dhawan has turned a new leaf, becoming the first cricketer to notch up back to back centuries in the IPL. Just the kind of confidence he needed ahead of a tough Australia tour lying ahead. Here's what former India batsman and renowned commentator Sanjay Manjrekar has to say about Dhawan's fabulous form this IPL season.
13:15 hrs IST
How good has Kagiso Rabada been?
With 21 wickets, Rabada is some distance ahead of his contemporaries. The South Africa fast bowler has showed why he's one of the best young fast bowlers going around at the moment. More so, the quality of his wickets is what has made him stand out in IPL 2020. Here is a report of how Rabada has fared this season.
13:08 hrs IST
What can KKR conjure to get better with the bat?
KKR's performance with the bat, which saw them score just 84 runs for the loss of 8 wickets against Royal Challengers Bangalore must have served as an eye opener for Eoin Morgan and his team. Given, RCB bowlers, led by Mohammed Siraj were disciplined, but you don't expect a line up such as KKR to not even score a 100. Plenty of issues are plaguing them, one of which is a muddled batting order. Rahul Tripathi is constantly being shuffled up and down and the absence of Sunil Narine and Andre Russell is only making it worse for the two-time champions.
13:01 hrs IST
IPL 2020, Live Score: What's eating Prithvi Shaw?
Having begun the tournament with two half-centuries, Prithvi Shaw has endured quite the dip in form. His last three innings have produced scores of 0, 0 and 7. And what's worse is that he's even made Sunil Gavaskar angry of his approach. Shaw's attacking nature forces him to go after the bowling early on, and in the process, he ends up playing a reckless shot that brings about his downfall. He needs to curb it if he doesn't wish to face the axe before the knockouts.
12:54 hrs IST
The race for the Playoffs is underway!
Well, we are at a crucial juncture in the IPL 2020. Each result from here onward will have a massive effect on teams and their hopes of qualifying for the playoffs. With CSK suffering yet another defeat to Mumbai Indians, their campaign is over. which all the more intensifies the equation between the likes of Kolkata Knight Riders, Sunrisers Hyderabad, Kings XI Punjab, since Delhi Capitals, Mumbai Indians and Royal Challengers Bangalore look formidable enough
12:47 hrs IST
What happened the first time around?
In Match 16 of the tournament, when KKR and DC faced each other, it was a run-fest with both teams scoring in excess of 200. Half-centuries from Shreyas Iyer and Prithvi Shaw took DC to an imposing 228/4 and while KKR tried, they fell short by 18 runs. Rest assured, with the pitches slowing down, 200 looks tough to get.
12:40 hrs IST
IPL 2020 Live Score, KKR vs DC
Hello everyone! A warm welcome to all our viewers to Match 42 of the IPL 2020. Yes, Match No. 42. Indeed, time has flown by. It wasn't too long ago that our favourite cricketers returned to play the IPL after months of uncertainty and now we've reached that stage of the tournament, where every result becomes crucial for all the eight teams involved. Let's take Kolkata Knight Riders and Delhi Capitals for example, who will kick off Saturday's double-header. A win here for DC is likely to see them become the first team to qualify for the playoffs, as it will take them 16 points. As for KKR, they need to win this match if they are to keep their final-four hopes alive
Close Story