Mohammad Azharuddin perfectly sums up Virat Kohli vs Babar Azam debate with no-nonsense four-word verdict
Jan 28, 2023 08:11 PM IST
Joining the Virat Kohli vs Babar Azam debate, former India captain Mohammad Azharuddin rather summed it up with no-nonsense four-word verdict.
Virat Kohli versus Babar Azam is now a long-standing debate in world cricket. Ever since the Pakistan captain came into limelight and started notching up records after records, most of which included breaking or surpassing Kohli's feat, the comparison between the two began brewing among fans and experts as well. Even veteran cricketers haven't been left out in joining the debate, the latest between former India captain Mohammad Azharuddin, who rather summed up the debate with no-nonsense four-word verdict.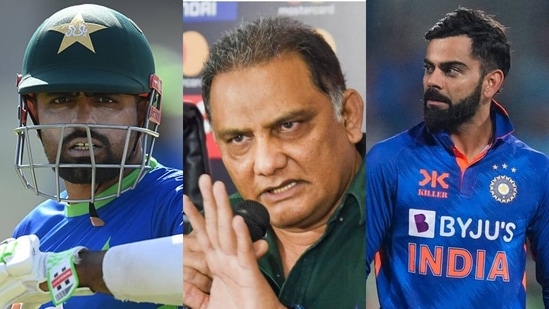 On the sidelines of the ongoing ILT20 league in the UAE, Azharuddin was posed this question by Cricket Pakistan, and while he was reluctant in comparing the two cricketing stalwarts, opining that they have very different styles of batting, he eventually sided with his compatriot giving the former India captain only a "slight" edge.
"Kohli is a seasoned player. His numbers are huge. I feel it is always difficult to compare two players, but these are two very different players. But if you see, Kohli is slightly better," he said.
ALSO READ: 'These journalists won't even eat food. Tweeting is their only job': Akram explodes on stories of 'spat' with Babar
Despite the off-field debates on the two cricketers, Babar and Kohli share a very good rapport. The Pakistan skipper had tweeted in support of Kohli when the star India batter was going through his century drought and faced immense criticism on his form. The two had later met during the 2022 Asia Cup as well, a moment which went viral all over social media.
"Babar is a very nice guy. I have always had good conversations with him. I am not sure about kinship since he is much younger to me, but there is respect. There is always respect," Kohli had later said in an interview with Star Sports.
He also recalled his first meeting with Babar. "He was always keen to learn. He spoke to me after our game in the 2019 World Cup. I have always said he is keen to learn, and there's no surprise that he is playing like this in all formats of the game. He is obviously a very talented player," he added.