Virat Kohli laughs off ball-tampering charges ahead of 3rd India vs England Test
Virat Kohli made news for the wrong reasons earlier this week when a video emerged showing that he was 'tampering' the ball during the Rajkot Test. Kohli says team focused on 3rd India vs England Test in Mohali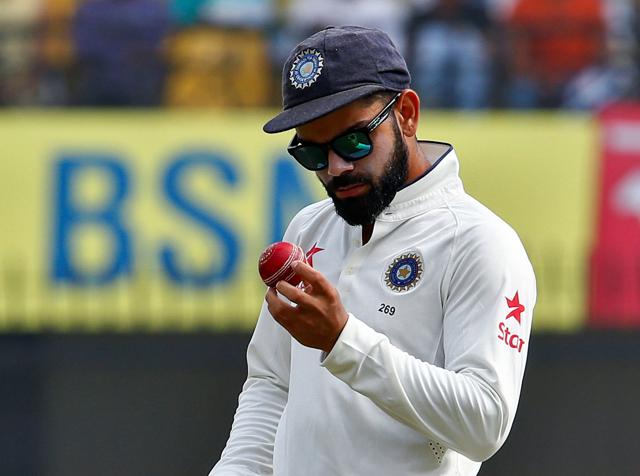 Updated on Nov 25, 2016 04:59 PM IST
Virat Kohli has brushed aside allegations of 'ball tampering' against him during the Rajkot Test. "I just laughed it off," he said on Saturday.
Earlier this week, a video clip from the Rajkot Test went viral on social media. A section of the British media hinted that Virat Kohli was 'tampering' the ball with some substance from his mouth.
Speaking ahead of the third India vs England Test in Mohali on Friday, Kohli was not amused with all the talk around ball tampering.
Read More | Virat Kohli and ball tampering: Why ICC can't act on it?
"It's an attempt by some people to take the focus away from the game to be honest. It happened in the Hobart Test between Australia and South Africa (Faf du Plessis has been fined by ICC)
"It didn't come up in Rajkot. No mention of it till (India's) Vizag victory," Kohli said. India lead the five-Test series 1-0. The third Test starts in Mohali on Saturday.
Read More | Did Virat Kohli tamper with the ball?
According to the ICC rule book, if the Kohli video had been reported by the match referee "within five days" of the Rajkot Test ending, it could have investigated the matter. The Du Plessis 'Lollygate' video came to ICC's attention a day after the Hobart Test ended.
"Newspaper articles don't matter over ICC. I don't read newspapers and was told about it later. If I was doing something, ICC would have spoken to me," said Virat Kohli.
On Thursday, the young Indian Test captain got backing from head coach Anil Kumble.
"First of all, I don't want to react to any report in the media. As far as I am concerned, umpires as well as the match referee never ever came to us talking about it.
"For someone like Faf du Plessis -- South Africa played exceptional cricket to beat Australia, to be told about ball tampering is silly. There is nothing to worry about, people can allege and write whatever they want. As far as we are concerned, none of our players were part of it," said Kumble.
Players want clarity: Alastair Cook
Meanwhile, England captain Alastair Cook took a diplomatic stance on the ball-tampering issue. "There is a grey area at this moment. Players are slightly confused at this point and the ICC needs to clarify," said Cook.
"I haven't seen the footage closely to comment on it. You just happen to have lolly in your mouth or chewing gum or jelly beans you don't know what is acceptable or not.
"See whether the sweet was taken to the ball or it was just salvia, players are waiting for ICC to clarify in the last 10 days," added Cook.
Close Story