Virat Kohli skipped Dharamsala to play IPL - Here's Brad Hodge's damning charge
Updated on Mar 27, 2017 05:35 PM IST
The former Australian batsman and Gujarat Lions coach suggested that Virat Kohli opted out of deciding match in Dharamsala to preserve himself for "cash-rich" IPL season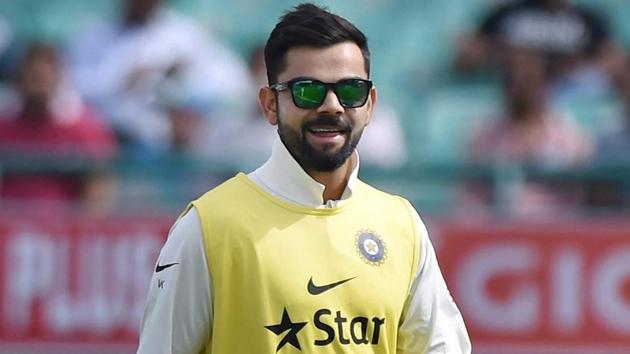 Mumbai |
HT Correspondent
Former Australia batsman Brad Hodge, who is the Gujarat Lions coach in the Indian Premier League (IPL), suggested that Kohli might have opted to sit out of the deciding Test in Dharamsala to get himself ready for the upcoming IPL season. (LIVE BLOG | LIVE SCORECARD)
He questioned Kohli's sportsmanship saying that it would be "dirty" if he featured for Royal Challengers Bangalore (RCB) in a few days having turned down the opportunity to represent India when they are a victory away from winning the Border-Gavaskar Trophy.
Seriously injured?
"You'd hope as a sportsman that he's [Kohli] seriously injured," Hodge told Fox Sports News.
"I'm hopeful, as a Gujarat Lions coach, that when we play RCB in a couple of weeks that he's not playing. Because if you miss one game of Test cricket and you're fronting up the next week for RCB versus whoever, at Bangalore, Chinnaswamy Stadium…
READ | David Warner's horror tour of India ends with another low score in Dharamsala
"You'd be pretty dirty if he didn't front up to a Test match and try and win a valuable series against Australia. You would think that your captain would get out there and get amongst the fight and get in there."
When Hodge was queried whether he thought Kohli was actually saving himself for the IPL, he seemed to concur.
"It's happened before. Not just Virat, but there're many players that have come up to IPL time and ... look, we know it's a cash-rich tournament, there's some money up for grabs.
Money matters
"He gets paid a helluva lot of money – he gets paid a helluva lot of money anyway, so it doesn't matter – but there are certain players who will limp in to IPL time, to make sure they get there and perform well, because it is an important tournament for everyone around the world."
READ | Wriddhiman Saha notches up special milestone in Dharamsala Test
Kohli's RCB team play the opening match of IPL 2017 against Sunrisers Hyderabad on April 5.
In the lead up to the fourth Test in Dharamsala, Kohli had made it clear that he would play only if he was 100 % fit.
"When we put these things in place the first thing I said was I'm not different from anybody else," Kohli had said a day before the start of the fourth Test.
"The same process applies for me as it does all the other members of the team. There's no special treatment for anyone. If I'm 100 per cent fit for the game, that is the only condition that I will take the field."
Kohli was injured on the first day of the third Test in Ranchi and never fully recovered from the impact injury. The shoulder strain resulted in him having to sit out the deciding fourth Test in Dharamsala with the series level at 1-1.
Going after Virat
Aside from the on-field jibes by the current Australian players — Glenn Maxwell grabbing his shoulder in an attempt to mock Virat Kohli's injury should easily come to mind — former Australian players and members of media have not held back in laying it into the Indian team during the ongoing Test series between the two nations.
READ | Fifty shades of Ravindra Jadeja: The art of rescuing India with half centuries
The 2017 Border-Gavaskar Test series has been described as one of the lowest points in relations between the Indian and Australian cricket teams, and by extension the relations between the national governing bodies — the Board of Control for Cricket in India and Cricket Australia.
Aside from the fiercely contested matches, there have been plenty of spiteful comments from Kohli being compared with animals to Australian skipper Steve Smith's "brain fade" wherein he allegedly attempted to get the assistance of his dressing room before asking for the decision review system to be used for his dismissal in the second Test.
Personalise your news feed. Follow trending topics