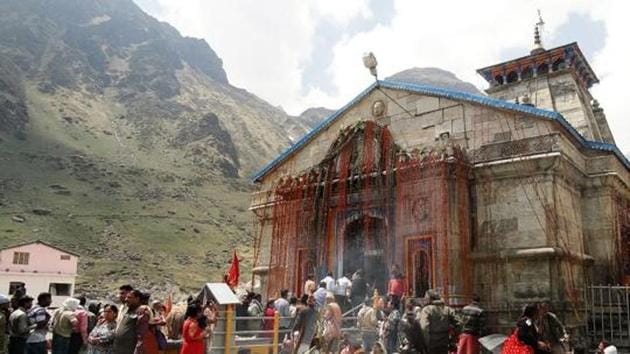 App for Chardham yatra registration in the offing
The Uttarakhand government is planning to launch a dedicated mobile app through which pilgrims from across the country will be able to register for the six-month-long annual Chardham yatra that starts from April 18
PUBLISHED ON APR 01, 2018 09:29 PM IST
The Uttarakhand government is planning to launch a dedicated mobile app through which pilgrims from across the country will be able to register for the six-month-long annual Chardham yatra that starts from April 18.
The final presentation of the app will be given on Monday. "If found suitable, pilgrims will be able to register for the Chardham yatra (pilgrimage) using their touch phones," V S Chauhan, joint director, Uttarakhand Tourism Development Board, said.
The official said the app could be downloaded from playstores, which would be available on mobile phones of all companies.
"The app has been designed in a manner that pilgrims would also receive weather updates on their mobile phones while undertaking the yatra," he said clarifying that no fee would be charged from pilgrims for online registration for the yatra.
Chauhan said pilgrims "are charged fee when they register" themselves online for the yatra on the tourism department's website. "However, no such fee is charged from them when they come to our counters for registration before they embark on the pilgrimage," he said, adding that additional 30 such counters had been set up on various points of the yatra route including Rishikesh.
The official, however, revealed that a blanket ban had been imposed on use of plastics during the pilgrimage to the four fabled shrines of Badrinath, Kedarnath, Gangotri and Yamnotri.
"Plastics of all kinds including plastic bottles and stuffs prepared from thermocol sheet will not be allowed during the Chardam," he said, adding that the step had been initiated in view of the ecological and environmental fragility of the high altitude (Chardham) area.
"The use of plastic, which is a non-biodegradable substance, has also been banned in view of the sensitivity shown by the National Green Tribunal (NGT)," Chauhan said. "The implementation of the ban order would be ensured at the level of the district magistrates or various local panchayat bodies."
A drive would also be carried out to ensure that pilgrims visiting the Chardham "are aware of the order" banning the use of plastics.
"The campaign would also be carried out through print and electronic media. In that connection, the message will also be advertised through newspapers and television channels," the official said. "It will be a part of a list of do's and don'ts that is circulated among the pilgrims undertaking the (Chardham) yatra every year."
Besides, solid waste management would be carried out on the Kedarnath route, for which the district administration would be allocated a fund of ₹86 lakh, the officials said. He said the work of hill cutting going on for the centrally sponsored Chardham all-weather road project would be completed by April 30.
Orders in that connection had been issued by tourism minister Satpal Maharaj. "Such orders have been issued to spare the pilgrims any kind of inconvenience on the Chardham route," Chauhan said. "The work of hill cutting for the all-weather road project will resume after the six-month long yatra would be completed."
Close