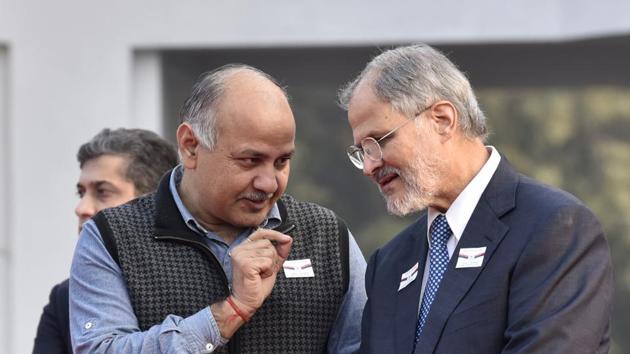 Administrator, actor, academician: Delhi's L-G Jung is a man of several talents
Najeeb Jung, a former bureaucrat and educationist, became the 20th Lieutenant Governor of Delhi in July 2013 when the Congress-led UPA was in power. When the Narendra Modi government took over in 2014, Jung, unlike other UPA-appointed governors, was not replaced.
UPDATED ON DEC 23, 2016 08:38 AM IST
From the bylanes of Daryaganj to the power corridors of Delhi, 65-year-old Najeeb Jung has always been on the move.
Jung, a former bureaucrat and educationist, became the 20th Lieutenant Governor of Delhi in July 2013 when the Congress was in power. Unlike other governors, appointed by the Congress government, Jung was not replaced by the Narendra Modi government after 2014.
But Jung wasn't the home minister's first choice back in December 2012 when the UPA started to look for someone with "administrative experience" to replace the then L-G, Tejendra Khanna.
Read | Najeeb Jung's sudden exit as lieutenant governor keeps Delhi guessing
Five senior IAS officers, who had retired from top positions in the administration were there. Former chief election commissioner SY Qureshi figured in this list. So did former chief secretaries of Bihar (GS Kang) and Rajasthan (Salauddin Ahmed).
But the selection process was stalled due to the mid-December gang-rape of a young physiotherapy student.
The file finally moved nearly six months later. The then home secretary RK Singh was told to propose Najeeb Jung's name. He did. And it was quickly cleared.
Three years and five months after his appointment, in a surprise turn of events, he resigned on Thursday to go back to his "first love" academics.
Before becoming the "administrative head" of Delhi, Jung served as the vice-chancellor of Jamia Millia Islamia. He took over the post in 2009 and worked there till 2013, before moving to the Raj Niwas.
Jung was born on January 18, 1951. He belongs to a well-known family of Old Delhi.
Read | 'My generation failed Dilli-6': L-G Jung reminisces about Old Delhi
He did his schooling from St. Columba's School, Delhi, and went on to study History at the St Stephen's College. He holds one postgraduate degree in History from Delhi University and another Masters degree in Social Policy and Planning in Developing Countries from the London School of Economics.
Jung joined the Indian Administrative Services (IAS) in 1973 and belongs to the Madhya Pradesh cadre. He worked as a bureaucrat for 22 years in different capacities in Madhya Pradesh and with the Indian government. He served at various posts such as district magistrate, managing director of two public sector companies and joint secretary with the government.
After quitting the civil services, Jung worked with the Asian Development Bank (ADB) as a senior advisor on energy. He was also a senior visiting fellow and research scholar at the Oxford Institute for Energy, Oxford University, for seven years.
Jung has also served as the chairman and member in various committees related to education such as the senate of the Indian Institute of Technology (IIT), Kanpur, a core committee constituted by the Ministry of Human Resource Development to look into different aspects of higher education and the general council of the National Council of Educational Research and Training (NCERT).
Read | Najeeb Jung vs Kejriwal govt: 5 issues over which they fought over
Close