From turmeric to clean biofuel: IIT, ICT, CSIR-CFTRI students win entrepreneurship challenge
56 students from all over India participated in the challenge, winners get to go on a one-week trip to France and visit innovation hub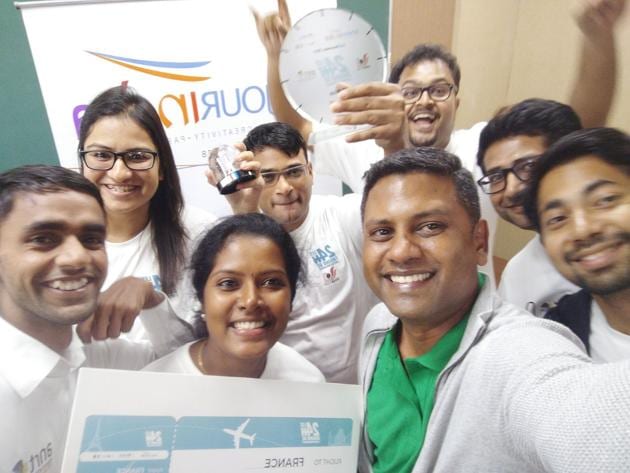 Updated on Dec 19, 2017 04:35 PM IST
Roorkee A team of young students from the Indian Institutes of Technology Delhi IITD), Roorkee (IITR), Indore (IITI); Institute of Chemical Technology Bombay (ICT) and CSIR-Central Food Technological Research Institute (CSIR-CFTRI) have won an innovative business idea contest . The 24H Chrono Challenge was held this month at the Indian Institute of Science Education and Research Pune. The winners will be visiting France to participate in the final edition of the competition and explore an innovation hub in that country.
About 56 students from all over India participated from institutes such as IITs, CSIRs etc. They were selected from applications that were invited in October and were divided for the contest into eight teams with seven members, each with a different area of expertise.
Repaul Kanji, a PhD student from IITR worked in the winning teach with two others from his institute (Vasundhara Jain, MTech scholar and Pritam Singh, PhD scholar, both from the biotechnology department). Others in the team were Anirban Kundu from IITD (MTech), Naresh Hanchate from ICT (PhD), Ankit Tiwari from IITI (PhD) and Vedashree M from CSIR-CFTRI Mysore. Each team was given 24 hours to figure out an idea and establish it as a business plan with all necessary strategies like financial planning, exit strategies, marketing and sales strategy etc.
Their coach was Allan Rodriques, CEO of Maker's Asylum.
Kanji's team focused on food processing, specifically on production of turmeric powder. It takes about a month for the rhizome (underground stem) of turmeric to harden for powdering, but one of the team members had a patent which cuts this time from one month to eight hours. The residue from the powdering process is then used to make clean biofuel. "We build our plan around that" Kanji told HT.
The contesting teams were guided by mentors and experts who helped them fine tune their business models. Experts selected from the public and private sector trained them on legal, commercial, and financial aspects related to the project.
The 24H Entrepreneurship Challenge, or '24H Chrono de 'Entreprenariat', is a concept created by the French National Agency for Research and Technology (ANRT) and Novancia Business School to encourage the spirit of entrepreneurship among PhD students, and to equip researchers with the necessary skill sets to take their most innovative ideas from laboratory to market. Organised in France every year since France since 2011, it has now been brought to India as part of 'Bonjour India', a platform to push for innovation and creativity between France and India from November 2017 to February 2018.
Close Story
Personalise your news feed. Follow trending topics