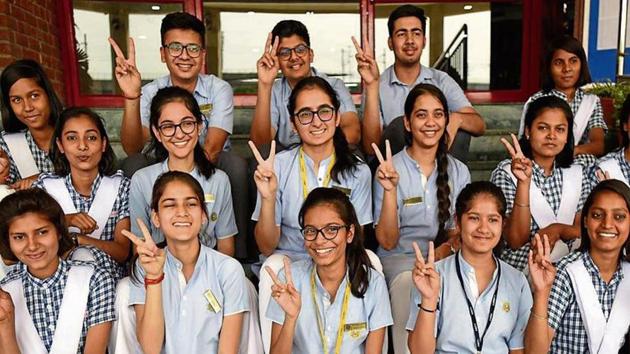 28 of 97 CBSE Class 10 toppers are from Noida, Ghaziabad
The officials of the CBSE on Monday said there is a marked improvement in the class 10 2019 results, as compared to the previous years, in the Dehradun region.
Hindustan Times, GHAZIABAD/NOIDA | By Peeyush Khandelwal & Tanmayee Tyagi
UPDATED ON MAY 07, 2019 11:35 AM IST
Twenty eight students from Ghaziabad, Noida and Greater Noida, out of a total of 97 students from the country, have managed to secure the first, second and third joint topper ranks in CBSE'S class 10 exam this year, results of which were declared on Monday.
According to the list, six students, three each from Noida and Ghaziabad, topped the list with 499 out of 500 marks, while nine students stood joint second, securing 498 out of 500 marks. A total of 13 students from the two districts secured 497 out of 500 marks, ranking joint third nationwide.
The officials of the CBSE on Monday said there is a marked improvement in the class 10 2019 results, as compared to the previous years, in the Dehradun region.
They said the pass percentage of Dehradun region has increased by 7.15%, as compared to last year. The list of top 10 has names of 97 students and 35 of these are from the Dehradun region, comprising students mostly from Ghaziabad, Noida, Greater Noida and Meerut.
"For improvement, we are taking up direct communication with each school. We have also taken up analysis of every school and results during the past years and this has enabled us to take corrective measures. We have also taken up analysis of marks scored in theory and practicals. The schools are then told to rectify issues and improve performance," Ranbir Singh, regional officer, Dehradun, CBSE, said. "In 2018, the region had secured a pass percentage of 81.89%. But this year we have improved upon the performance with corrective measures and secured a result of 89.4%. This year, pass percentage of girls is 93.15% while for boys it is 86.72%," he added.
Not only did Ghaziabad and Gautam Budh Nagar districts get three all-india joint toppers in the class 10 exams, Hansika Shukla of Ghaziabad had made the city proud by emerging as the joint allIndia topper in CBSE'S class 12 results declared last week.
All 535 candidates from Amity School, Noida who appeared for the class 10 boards cleared the exams, with 174 of them scoring 95% and above. Sonakshi Gupta was the school topper with 99.2% marks followed by Ashmi Jain and Gaurika Bijlani. The topper from Shiv Nadar School was Arul Kumar with 97.4% marks, followed by Yashica Lakhanpal (97.2%) and Poorvi Kumar and Saawini Mittal (96.8%).The DPS Noida has a 100% pass rate of the 313 students who appeared for the exams, of which 228 secured more than 90%. The topper was Sneha Choudhary with 99% marks followed by Kanishk Srinivas (98.8%) and Mehar Goenka and Prakhar Srivastava (98.6%).
The Mayoor School, Noida not only fielded the district topper but of the 230 students who appeared in this year's examination, 46 secured more than 95%.
With nearly 29% merit list holders belonging to the two districts, a lot of academic focus has shifted to these cities. Academicians believe these cities, being relatively newer, field modern methodologies of teaching. "It's a more ambitious environment. These are newer cities, with more and more schools coming up. The heat has been turned up leading to a competitive state. And the schools use newer and better methods of teaching which could be why more and more toppers have been emerging from these cities in recent years. The numbers will only go up only as no school would want to perform poorly the following year," Dr Ruchi Seth, principal, Lotus Valley School, said.
Though no one could say for sure as to what streams the top students generally opt for, Seth said: "More and more students have now started opting for humanities as well as better career opportunities are now coming up from this field as well," said Seth.
Close