Hrithik Roshan makes a rare appearance, blows kisses for fans waiting outside house on 49th birthday. Watch
Jan 10, 2023 06:33 PM IST
Actor Hrithik Roshan, on his 49th birthday, greeted fans who came to wish him on his special day. He waved and smiled at them from the balcony of his apartment in Mumbai.
Actor Hrithik Roshan turned 49 on Tuesday and fans gathered outside his Mumbai house to catch a glimpse of the birthday boy. Keeping them in mind, the actor happily appeared on the balcony of his apartment and greeted them with his infectious smile. He also waved as a group of fans cheered for him. Also read: Saba Azad calls boyfriend Hrithik Roshan 'favourite goof' on 49th birthday, ex-wife Sussanne Khan writes sweet wish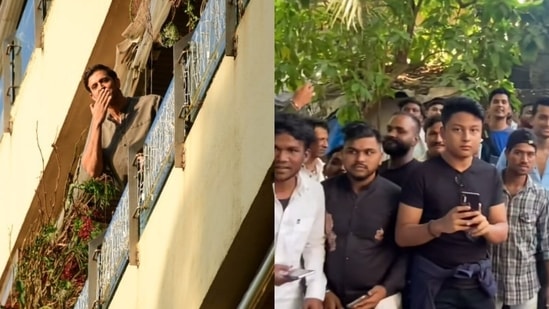 In a video, fans are seen patiently waiting for Hrithik. All prepared to record a sneak peek of the actor, most of them carried cameras and phones. Some of them also held gifts, including a birthday cake. A huge bouquet of flowers was also seen, being held by someone for Hrithik.
Some of them, in a different video, were caught calling out Hrithik's name outside his residence. They shouted 'happy birthday Hrithik sir.' After much waiting, Hrithik finally stepped out of his house and waved at them from his balcony. With both of his hands, the actor waved and thanked them.
Hrithik also blew flying kisses and smiled from ear to ear. He also flashed thumbs up sign to the gathered crowd downstairs. His fans went berserk after his rare appearance.
Talking about his 49th birthday, Hrithik told Hindustan Times, "I used to see it as a fun day but then somewhere along the way it started becoming a chore, a duty, must celebrate, must party, birthdays came with a slight sense of discomfort. But today I see it as an opportunity to spend time doing things that would fulfil me. I may still do the exact same things, but now it's out of my own desire and sense of fulfilment rather than a self imposed mandate."
Meanwhile, social media is flooded with heartfelt wishes for Hrithik. From his girlfriend Saba Azad to his ex-wife Sussanne Khan and actors like Priyanka Chopra, Anil Kapoor, Tiger Shroff and others, the actor is being showered with love on his special day. He also received a special wish from his father, filmmaker Rakesh Roshan.
Hrithik was last seen in Vikram Vedha in 2022. He is currently gearing up for his next, Fighter. The Siddharth Anand directorial stars him opposite Deepika Padukone for the first time. The action flick is slated to release on January 25, 2024.