Khushi Kapoor and half-sister Anshula Kapoor get matching tattoos: 'Because we fit together'
Published on Jul 17, 2021 07:02 PM IST
Arjun Kapoor's sister Anshula Kapoor joined her half-sister Khushi Kapoor to get matching tattoos. Check them out here.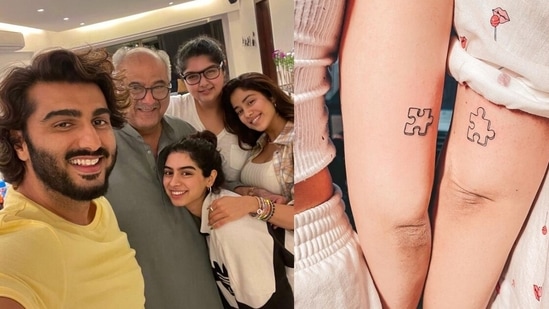 Khushi Kapoor has got a new tattoo and this time, she had Anshula Kapoor for company. The daughters of producer Boney Kapoor were seen showing their new, matching tattoos on Saturday. The half-sisters got themselves tattoos inspired by the pieces of a jigsaw puzzle.
Taking to Instagram, Anushla Kapoor shared a picture in which she and Khushi Kapoor are seen standing together with their tattoos in focus. Sharing the picture, Anshula said, "Love you to pieces @khushi05k hehe #Punny #CozWeFitTogether." Khushi took to the comments section and said, "Love you," along with a few heart emojis.
Khushi and Anshula's new tattoos also received love from their fans. A fan said, "awwiee this is so so cute." "Damn how cute," added another. "Y'all are so cute," a third said. "So cute thats a sister goal," a fourth added.
Anshula Kapoor and Arjun Kapoor are the children of Boney Kapoor and his first wife Mona Kapoor while Boney had Khushi Kapoor and Janhvi Kapoor with his second wife, late actor Sridevi. In recent years, Anshula and Arjun have grown closer to Janhvi and Khushi. The siblings have been seen spending time together and bonding on social media.
Also read: Arjun Kapoor shares video as Anshula talks about dealing with their mom's loss; he calls her 'my strength, my life'
Arjun had recently confessed he does feel 'very strange' when he hears Janhvi call him 'bhaiya'."It sounds a bit religious also, Brother Arjun," Arjun said, during a Clubhouse session with The Bollywood Film Club. He added, "The thing is, 'Arjun bhaiyya' still sounds very strange to me, only because Anshula calls me 'bhai' in a very strange way. 'Arjun bhaiyya' is a very new thing. So, when Janhvi says that, it still feels very, very new to me, actually."
He also said that he has never asked Janhvi to call him by a specific name. "I think it just comes very naturally to Janhvi to call me 'Arjun bhaiyya' because I have never even told her, 'You should call me this' or call me that," Arjun said.
Personalise your news feed. Follow trending topics