Shah Rukh Khan watches Pathaan with Suhana weeks after minister's 'he should watch it with his daughter' demand
Jan 17, 2023 11:13 AM IST
Shah Rukh Khan watched his upcoming film Pathaan with wife Gauri Khan, son Aryan Khan and daughter Suhana Khan on Monday.
Weeks after Madhya Pradesh Speaker Girish Gautam said Shah Rukh Khan should watch Pathaan with his daughter, the actor indeed watched the film not just with Suhana Khan but also his wife Gauri Khan and son Aryan Khan at the Yash Raj Films office on Monday. The family was spotted arriving for the screening late Monday evening. Also read: Pathaan gets new directive from Delhi High Court; Shah Rukh Khan's film to release on Prime Video in April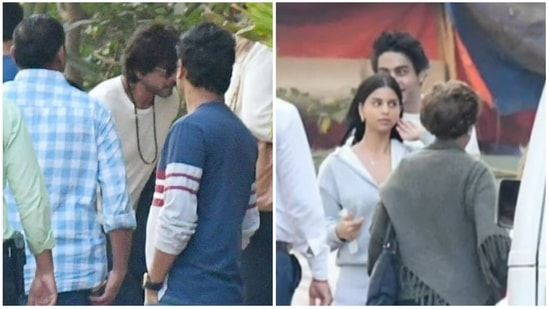 Shah Rukh was seen in a cream tee and blue pants and wore the beaded necklace he has been spotted wearing during the film's promotions. Aryan also wore a white tee while Suhana wore a cream hoodie.
In December last year, Madhya Pradesh Speaker Girish Gautam had objected to Deepika Padukone's saffron bikini in Pathaan trailer. He had told NDTV, "Shah Rukh should watch this film with his daughter, upload a picture and tell the world that he is watching it with his daughter."
Shah Rukh recently returned from Dubai where he witnessed the Pathaan trailer which was showcased on Burj Khalifa on Saturday. He also promoted the film at an event where he said his popular lines from the film and also did his Pathaan hookstep from the song Jhoome Jo Pathaan.
Shah Rukh had recently conducted an Ask Me Anything session on Twitter as well. During the interaction, a fan asked him about how his family has reacted to the trailer. The actor shared the response of his youngest child, Abram Khan. He said, "The little one liked the jet pack sequence most....he thinks I might go into another realm!"
Directed by Siddharth Anand, Pathaan stars Shah Rukh as a secret agent and John Abraham as the antagonist. Deepika Padukone is the female lead while the film also has Dimple Kapadia and Ashutosh Rana in pivotal roles. It will release in theatres worldwide on January 25.
Soon after the trailer was released, some politicians objected to Deepika's saffron bikini and her glamorous appearance. Some also objected to the film's title which hints at a particular community. The censor board has passed the film with a few cuts.