Siddharth Anand reacts to Pathaan controversy after success: 'Audience is too smart to get fooled by fake boycott calls'
Jan 31, 2023 08:42 PM IST
Filmmaker Siddharth Anand talked about Pathaan row in a recent interview saying that his film had nothing offensive. After many were upset with the Shah Rukh Khan-starrer for allegedly hurting their sentiments, the director called it a 'patriotic film.'
Pathaan director Siddharth Anand recently opened up about the controversy around his action film, which led to a section of the people calling for a boycott of the film. The film stars Shah Rukh Khan, Deepika Padukone and John Abraham. Addressing the row after the massive box office success of Pathaan, Siddharth said that his film had nothing offensive and called it a 'patriotic film.' Also read: Shah Rukh Khan addresses Pathaan controversy for first time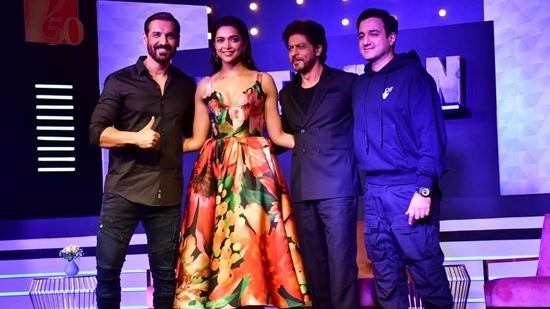 Pathaan made news after releasing its first song, Besharam Rang showcased Shah Rukh Khan and Deepika romancing in Spain. While some expressed their displeasure with the lyrics of the songs, many political leaders protested against the outfits in the song, including Deepika's saffron bikini. Many were upset with the song for allegedly hurting their religious sentiments. This led to protests against the film in parts of India and boycott calls on social media as well.
Talking to Variety, Siddharth said, "We've had lots of films with big stars that have come out post-pandemic and unfortunately, some of them haven't worked. But the film has spoken and the film's intentions have spoken. And the fact that it had nothing offensive, it's such a patriotic film that it does inspire you."
"That's reached the audience – the audience is too smart to get fooled by fake boycott calls," he further added.
Recently, it was Shah Rukh Khan who touched upon the subject during the first media interaction for Pathaan. He said, "Sabka maksad ek hi hota hai (Everyone has one motive). We should spread happiness, brotherhood, love, kindness, even when I'm playing a bad guy like [in] Darr. Even if I'm playing a Baazigar, even if John is being bad in a film. None of us are bad. We are all playing characters to make you happy. If we say things in the film, none of them are meant to hurt any sentiment or anybody. It is just entertainment."
"We love each other, we joke with each other. We have fun with each other. Fun, entertainment should be left at that. Don't take it more seriously. We all are one. All of us are loving each other and trying to make that love spread just to tell you in a very simple manner... this is Deepika Padukone, yeh Amar hain. Main Shah Rukh Khan hoon, main Akbar hoon. Yeh John hain, yeh Anthony hain. And this is what makes cinema," he also added.
Pathaan released on January 25. The film has collected ₹296 crore in Hindi in six days of its release. It's predicted to cross the ₹300 crore mark on Tuesday.