KK's first song since his death, Dhoop Paani Bahne De, releases; fan says 'can't control my tears while listening'
Jun 06, 2022 09:14 PM IST
The first song from Sherdil The Pilibhit Saga, Dhoop Paani Bahne De, is out and it is KK's first song that released after his death. Here's how fans have reacted. Watch the video here.
The producers of Sherdil The Pilibhit Saga have released their first song, and it is also the first song of KK released after his death last week in Kolkata. Titled Dhoop Paani Bahne De, the song is written by Gulzar and has been composed by Shantanu Moitra. (Also read: Shaan pays moving tribute to KK at an event, emotional fans react)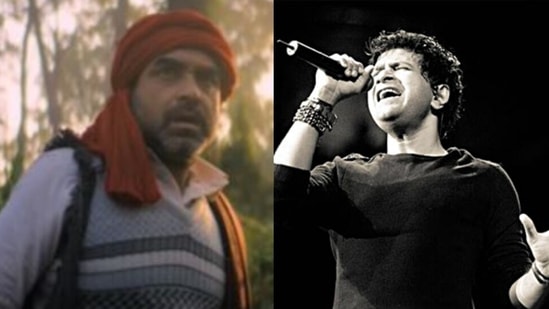 In the video of the song, Pankaj is seen travelling through the forest. The video also features Neeraj Kabi and Sayani Gupta. In the clip, Pankaj and Neeraj share a meal amid the greenery. KK's line goes, "In har ek pedho ki, daaliyaan kat gayi. Kuch pooja mein, kuch shaadiyon mein jal gayi, kat gayi."
Fans reacted to hearing KK's voice for the first time since his sudden death recently. Reacting to the song, a fan wrote, "The sukoon (calm) his voice offers, is just incomparable." "Hard to believe that we wouldn't get any new song from him again. I feel like he is with us, whenever I hear his voice," commented another person. "Can't control my tears while listening," said another person.
"It will never feel the same listening to KK sir, he is the greatest of all time," said a person. "Wish KK was there. But I still feel that whenever I hear your songs, I still feel the same vibes as I felt when I heard your song for the first time. (First time when I was in love)," wrote a fan.
Speaking about KK, Gulzar said, "Srijit has done me a favour in Sherdil. Not only did I get to write for such a beautiful film, I got to meet KK after ages. KK had first sung a song of mine in Maachis, Chhor aye hum woh galiya. When he came to sing the song for Sherdil, it filled my heart with joy but It's a shame that this had to go down as one of his last songs. It's like he came to say goodbye."
Shantanu also said, "KK sang this song like it was his own. He told me this song has given Gulzar sahib back to him after two decades. He was also excited that he would sing this song in live concerts because it talks about conservation and the youth needs to listen to this."
Directed by Srijit Mukherji, Sherdil: The Pilibhit Saga features Pankaj Tripathi, Neeraj Kabi and Sayani Gupta in lead roles. The film is inspired by true events, and focusses on the negative effects of modernisation and man-animal conflict.
KK died on May 31 after performing at a concert in Kolkata. He performed at the concert organised by Gurudas College at Nazrul Mancha in south Kolkata. As per officials, the singer was "feeling heavy" after he reached his hotel post the performance and soon collapsed. While he was taken to a hospital, doctors declared him brought dead upon arrival. Born into a South Indian family in the national capital, KK sang advertising jingles before he got his break and recorded songs for various films.
Sherdil The Pilibhit Saga is presented by Gulshan Kumar, T-Series Film and Reliance Entertainment, produced by Bhushan Kumar and Reliance Entertainment and production by Match Cut Productions Private Limited. It is set to hit theatres on June 24.
Topics