Run BTS teaser: J-Hope says BTS is 'one in body and soul', but they hilariously fail to answer trivia questions. Watch
Published on Aug 09, 2022 09:04 PM IST
A new teaser of Run BTS has been released and shows BTS members answering questions about each other. The special episode will be released on Weverse, VLive, and YouTube on August 16.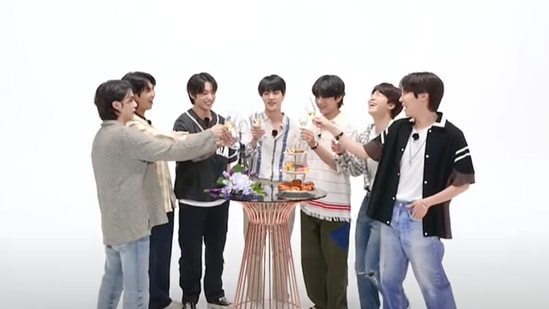 A new teaser of BTS's popular series Run BTS was released on Tuesday, and immediately became a hot topic for the ARMY. The teaser featured RM, Jin, Suga, J-Hope, Jimin, V, and Jungkook participating in a telepathy game where they had to answer trivia questions about each other. While the group started the game on a confident note, they soon realised that they were never good at the game. Also Read| J-Hope on why he gave shout-out to fellow bandmates with Run BTS
The teaser, titled "Run BTS! 2022 Special Episode - Telepathy Part 0," started with the game's coordinator asking the members, "This may not even need to be asked, but how well do you know your members?" Jin confidently replied, "Very well, of course. There's nothing we don't know." J-Hope added to this, "We've been together for so many years. We're one in body and soul." Suga said, "What do you take us for?"
However, the band shared some laughs as they failed to answer trivia questions about each other while their new song also titled Run BTS played in the background. RM said, "This is driving me crazy," while V cluelessly asked at one point, "What does that mean?" During one of the questions, Jungkook tried to search his memories for the answer, but then conceded defeat and said, "We were seriously never good at this."
After giving a wrong answer, Jimin asked, "It's not this?" At another point, Jungkook got upset after one of his bandmates got something wrong about him, and complained, "How can you not know this?"
As soon as the teaser was dropped, it created confusion for BTS' fans as its title suggested that it was the full episode instead of a 41-second teaser. Other fans called the programme therapy for them. One tweeted, "My happy pills," while another wrote, "Therapy is coming back for real." A third one tweeted, "Thank you for going against the healthcare system and making therapy free."
Run BTS, which shows the BTS members having fun as they indulge in some friendly competitions, is coming back after a gap of 10 months. The episode will be released on Weverse, VLive, and YouTube on August 16.